Ozekhome Says Jonathan Doesn't Need The Consent Of NASS Members To Suspend Sanusi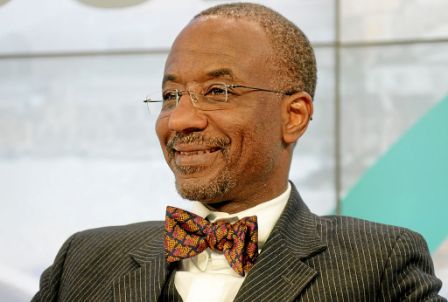 NAN
Mr Mike Ozekhome, a Senior Advocate of Nigeria (SAN), on Friday said President Goodluck Jonathan's suspension of Lamido Sanusi as Governor of Central Bank of Nigeria (CBN) was legally right.
Ozekhome, who is also a constitutional lawyer and human rights activist, said this in an interview in Abuja.
"Constitutionally and legally, what President Jonathan did was correct. He does not require the consent of the National Assembly to do so.
"Anyone who is an employee has to know that he is answerable to his employer. You cannot bite the finger that feeds you.
"The Nigerian Constitution and the CBN Act give the President the authority to suspend or remove the Governor of the CBN,'' he said.
Ozekhome claimed that Sanusi had deviated from his primary duty of leading the apex bank to the path of monetary stability.
"A governor of a Central Bank in any part of the world should be seen and not heard.
"When he should be heard, he should only be discussing monetary policies which will uplift the economy of his country.
"In Nigeria, what we have is a CBN governor that has been fighting the government of his country,'' he said.
Ozekhome alleged that Sanusi had been making very provocative and highly derogatory statements even about the monetary policies of his own country.
"When you say all that, then how do you want international investors to come to the country, when a very reliable figure is saying all these negative things about his country,'' he claimed.
The lawyer alleged that the ex-CBN governor had been acting like a political leader or traditional ruler by donating public funds to universities, political aides and at other functions.
He said Sanusi was not versatile and had made six mistakes on the missing funds from the Nigeria National Petroleum Corporation (NNPC) within the last two months.
"This variation in figures of the missing funds has caused chaos in the country, which is not supposed to be so,'' Ozekhome said.
He said in as much as Sanusi could lay claim to some notable achievements, it was evident that he (Sanusi) still made some notable mistakes.
"People should look at this from all sides. It is easy for people to say Sanusi's sack was because he exposed the truth. But, no! This is not it.
"When Sanusi became the governor, the exchange rate of the Dollar with the Naira was about N130.
"Today it is anything between N160 to N170 to a dollar. This is the poorest so far in the history of this country,'' the lawyer said.
He said it was undeniable that Sanusi had some good impact on the banking industry "by weeding out bad banks and restructuring the entire banking sector''.
"He has succeeded in that area. No doubt. But his visibility and intrusion into matters that are highly political and have nothing to do with his office are questionable character," Ozekhome said