Nigerian Government Compensate Owners Of Centenary City With N319m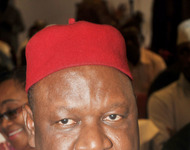 NAN
The Federal Government released N319 million for payment of compensation to residents of Baruwa Community, Abuja, whose farms are to be used for the development of the Centenary City.
The community, which is situated on Airport Road, Abuja, covers 1,200 hectares.
Mr Okechukwu Francis, Director, Resettlement and Compensation in the FCT, made the fact known at an official ceremony for the payment of compensation to residents of the community.
"For this compensation, what we have done is just pay them for the crops and economic trees that will be affected in the development.
"I want to assure residents that compensation would be paid to all those who will be affected in the area. I want to emphasise that we have been fair and just to the community, nobody has been short-charged.
"We engaged the services of registered professionals who are empowered to do the evaluation for the compensation and this was in accordance with the laws of the FCT.
"For this compensation, what we have just paid is for their crops and economic trees. Further discussions are ongoing for the houses that will be affected,'' he said.
Meanwhile, Mr Olatunde Ayeni, a member of the board of the Centenary City, told the News Agency (NAN) that the project was huge.
"When completed, it will be the second largest city development in the whole world.
"This compensation is to ensure that the community people live in peace and cooperate with government.
"Peace in the environment is important. So we are taking time to follow due process so that we can take compensation to the community involved.
"Today`s ceremony is to ensure cooperation of the community and everybody involved to ensure that the development is free from any disturbance and trouble and everybody can benefit,'' he said.
However, Mr Monday Kogi, the traditional chief of Baruwa community, said that the money given to the community as compensation was not enough.
Kogi, who received N132,000 as compensation, said he expected to be paid not less than N1.5 million.
He appealed to the government to cooperate with the community.