Tourists, Residents Troupe Out For Carnival Calabar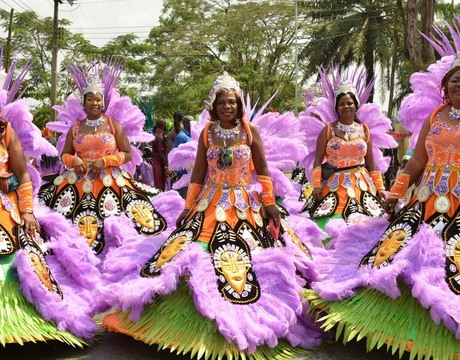 NAN
Tourists and residents of Calabar have trouped out in their hundreds to watch the Carnival Calabar reputed to be Africa's biggest street party.
The News Agency of Nigeria reports that offices and business premise in Calabar however remained under lock and key on Friday to allow full participation in the carnival.
This year's event features cultural and musical shows, freestyle parade, international heritage parade, children carnival and beauty pageant.
The event also featured various bands interpreting the carnival theme in their floats, dance and songs.
The various bands in display included Bayside, Passion4, Masta Blaster, Seagull, Freedom band and the newly introduce Nollywood band.
The 2013 edition of the Carnival Calabar, which has as its theme: "Ain't No Stopping Us' will also feature a12 km long road show.
NAN reports that the bands are expected to translate, interpret and conceptualise the carnival theme into dance, costumes, floats all in the spirit of the carnival.
Some tourists, who spoke to NAN in Calabar said that the festival ranked among the best in Africa.
Mr Christian Harry, a tourist from Lagos, said he was impressed with the activities so far on display.
"Despite the high cost of hotel accommodation and traffic; the festival promises to be a memorable one for me and my family members.
"After one year of work, it's nice to give one's wife and children a treat and spend quality time with them in an atmosphere of festivity," he said.
Harry, however, said the traffic situation had affected his plans to further explore the city.
Mrs Blessing Asuquo, a business woman from Akwa Ibom, said that she decided to attend the festival to explore business opportunities in the city.
Asuquo said that she was impressed with the cultural display so far and commended the state government for the initiative.
A commercial driver, Richards Okonkwo, said that with the influx of visitors, his daily income had triple since the commencement of the festival.
He, however, said that the increased number of vehicles plying the roads had increased the traffic situation, and as such decreased his profit margin.