APC Blames Governor Mimiko For Olu Falae's Kidnap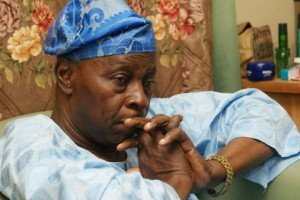 The All Progressives Congress in Ondo State has blamed Governor Olusegun Mimiko, for the abduction of the National Chairman of the Social Democratic Party, Chief Olu Falae.
The APC said this in a statement by its Publicity Secretary, Abayomi Adesanya, on Wednesday.
The party also berated the governor for the high rate of kidnapping, rape, robbery, extrajudicial killing and other social vices in the state.
The APC noted that Falae was kidnapped in his farm in the Akure area of the state. The party said other people had been kidnapped around the farm about two weeks ago and a security report was given to the governor but Mimiko and the police authorities failed to act.
The statement read in part, "About three weeks ago, specifically on September 2, 2015, around Chief Olu Falae's farm in Ala village, Akure- North Local Government area of the state, a farmer, Mr. Adediran Adejo, was kidnapped from his farm. Adejo was in captivity for several days and was not released until a ransom was paid to his abductors.
"Governor Olusegun Mimiko, being the Chief Security Officer of the state, the Ondo State Police Command and other security agencies had adequate information and notice about the kidnapping and other criminal activities in this area and across the state, but they were lackadaisical about these developments.
"The kidnapping of Chief Falae, being the second within a period of three weeks in this particular area, Ala village, is totally unacceptable and it is an indictment on Governor Mimiko, the police and other security agencies for their lackadaisical attitude and dereliction of duty."
The APC wondered how the security vote was being spent in the light of the surge in crime in the state
It said the 'fire brigade' approach on the current manhunt of Falae's kidnappers is because a prominent and famous Nigerian is the latest victim.
It added, "The APC's investigation revealed that a whooping sum of N1.5bn is being deducted as security vote from the state's treasury on a monthly basis. If this amount is committed to securing lives and properties, these dastardly acts would have abated. "We don't want to believe that the security vote is going into private pockets as it is being speculated."
The APC also berated a former Minister of Aviation, Femi Fani-Kayode, for blaming the President Muhammadu Buhari-led Federal Government for Falae's kidnap. It added that the Federal Government could not be held liable for such a crime.