FACT-CHECK: NASS didn't consider Bill for inclusion of referendum in constitution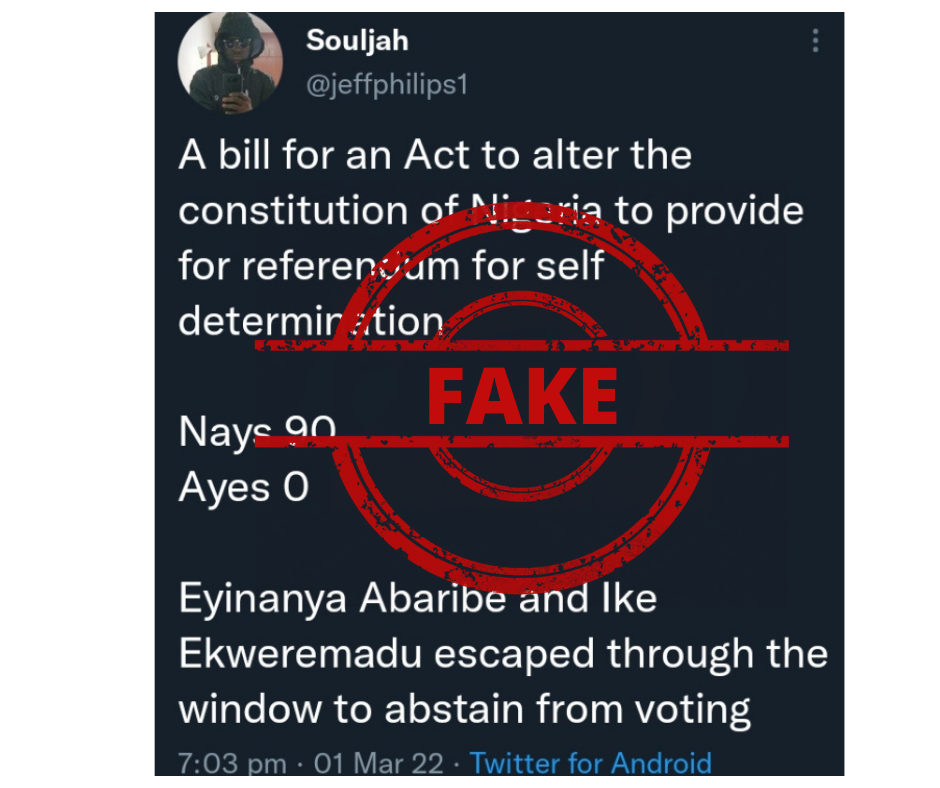 Claim: A Twitter user claimed that Nigerian legislators all voted against a proposed amendment to the constitution to allow for a referendum.
The tweet that has been liked 700 times and retweeted 377 times, also claimed that Senator Enyinnaya Abaribe and Senator Ike Ekweremadu of Abia South Senatorial District and Enugu West, respectively, both "escaped through the window to abstain from voting.'
The tweet has been reproduced by another user and has since gained traction.
Verification:
To verify the claim, NewswireNGR manually searched through the Twitter handle of Policy Advocacy and Legislative Centre, PLAC, a non-governmental organisation that works around strengthening law-making and policy in Nigeria. NewswireNGR found an 8-tweet thread with a pictorial fact-sheet on the constitution alteration bills placed before the National Assembly. On the fact sheet, they were 68 constitutional alteration proposals before the legislators and none of the proposals was on a referendum.
NewsWireNGR also checked the Twitter feed of the House of Representatives, where the order paper for that day's proceedings was posted. There were 68 constitutional amendments reports expected, each dealing with one proposed amendment. A bill-by-bill assessment of the 68 reports also confirmed that there was no proposed amendment on a referendum.
VERDICT: The claim is false as there was no such proposal before the Senate nor the House of Representatives.