#EndSARS: Rivers State Judicial Commission receives 171 petitions on police brutality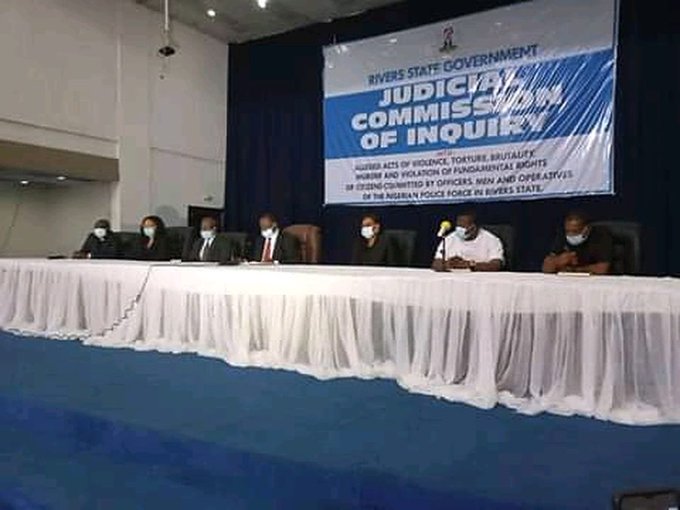 Estimated Reading Time: 2
The Rivers State Judicial Commission of Inquiry has today held its inaugural sitting at the Obi Wali Int'l Conference Centre, Port Harcourt
The Judicial panel was set up to probe allegations of Human Rights violation cases by officers of the disbanded Special Anti-Robbery Squad (SARS) unit.
The creation of the panel is in the wake of the recent EndSARS protests where citizens have made human rights violation allegations against the SARS unit and the entire Nigerian Police Force.
Having set the deadline for complaints on Monday, November 23, the Chairman of the panel, Justice Uriri says that it received 171 petitions.
The commission named 'Rivers State Judicial Commission of Inquiry into Acts of Violence, Torture, Brutality, Murder and Violation of Fundamental Human Rights of Citizens by Officers, Men and or Operatives of the Nigerian Police Force in Rivers State' will sit for 60 days consecutively with a 4 day break during the Christmas period.
The Chairman of the panel while speaking said, "By the virtue of the terms of reference, time is of the essence. Consequently, the panel shall sit on a daily basis, precisely at 10 am."
"it is enjoined by law to make its own rules for the effective administration of justice."
"The rules of the court are necessarily relaxed provided the old-time practice of seniority at the bar is not diminished. So there shall be no strict adherence to the rules of evidence, the panel shall admit evidence, written and oral, so far as such is useful to humanity. Nevertheless, the panel reserves the power to contempt which is sine qua non for the effective administration of justice," he stressed.
While Speaking at the inauguration sitting, Chairman of the Port Harcourt branch of the Nigeria Bar Association (NBA), Prince Nyekwere, stated that he was happy that the Committe was set up to look into cases of human rights abuses complained in the recent EndSARS protests.
"If we look at it (EndSARS protests) critically was not only targeted at the police and SARS, it was actually a protest targeted at bad governance and we just hope that the commission will give the seriousness the assignment deserves", he stated.
He added: "As members of the NBA Port Harcourt branch, we have promised to partner with them to ensure that the mandate is achieved. Nigerians were really under siege by SARS and police and we want them not to play games with this mandate.
"We want it to be said as it happened, what they saw. And we also want the government to have the political will to implement whatever recommendations that will be made because we are bringing evidence of things that have happened that nobody has heard before."
kindly donate to the work we do using our interim PAYPAL https://www.paypal.me/NewsWireNGR