"In my village, they mock me that my husband died in SARS and there is no grave where I can point that he was buried" – , Mother of seven tells Panel #EndSARS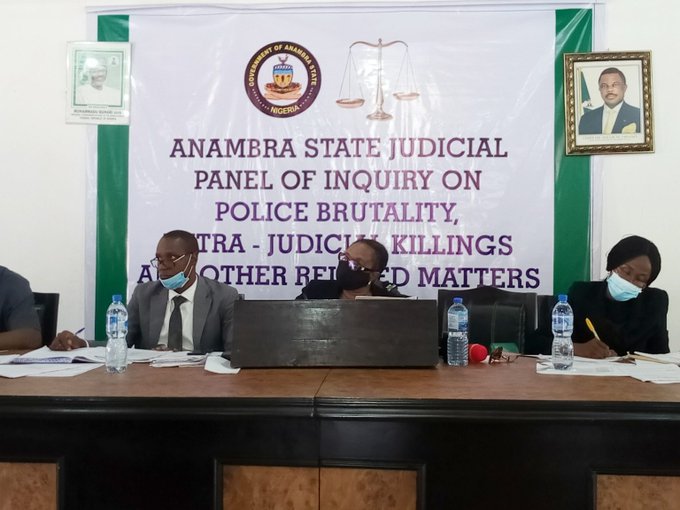 Estimated Reading Time: 2
Christina Nnatuanya, a mother of seven who alleged that her husband, Linus Nnatuanya was killed by officers of the now defunct SARS has told the Judicial panel how her late husband was brutalised and left to die in the cell.
The mother of seven told the Anambra state panel on Tuesday that her husband was arrested during a raid at their residence in Ogbaru suburb of Onitsha in January 2007.
The husband was arrested and detained amidst allegations that he was a member of the Movement for Actualisation of The Sovereign State of Biafra (MASSOB).
Christina said the family did not now of her husband whereabout till a year later on January 2008.
"When I got to SARS, I told them who I was looking for and they took me to him, he was in Cell 4," she recalled.
"The heat and stench were much and my husband was allergic to heat. So they said I should go and bring N400,000 but I did not have it. I later raised N40,000 and on getting there, they said he had been moved to Abuja."
She was later told by a man who was arrested alongside her husband that he was dead.
She said all effort to get his corpse and bury him have not yielded success.
"It was one man by the name Ugochukwu Eze from Ebonyi State who was arrested with him that told me that my husband had died in SARS cell, since then, all efforts to see him or his corpse have failed."
"In my village, they mock me that my husband died in SARS and there is no grave where I can point that he was buried.
If only they can show me where they buried him so that I can take the sand home for burial."
While complaining about how life has been unbearable for her and the family since her husband died, Christina requested for N50 million to be awarded to her as compensation.
The Police however refuted the complainant's claim.
Innocent Obi, a Superintendent of Police from the Legal Department of Anambra SCID said that the Police had no record of the incident or the dead body.
He cross-examined the petitioner who recounted her petition.
Having listened to both parties, the Chairperson of the panel, Justice Veronica Umeh said investigations would continue.  
kindly donate to the work we do using our interim PAYPAL https://www.paypal.me/NewsWireNGR