The Supreme Court will rule on Yahaya Bello's election on Aug 31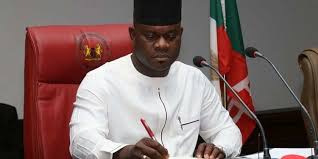 Estimated Reading Time: 1
The Supreme Court has fixed Monday, August 31, for judgments on two appeals challenging the election of Governor Yahaya Bello of Kogi State.
The court's seven-man panel led by the Chief Justice of Nigeria, Justice Tanko Muhammad, fixed the date after lawyers representing the appellants and the respondents in the two cases adopted their briefs of argument on Tuesday.
The separate appeals were filed by the Peoples Democratic Party and the Socialist Democratic Party, along with their respective governorship candidates, who were dissatisfied with the outcome of the November 16, 2019 poll.
The Punch reports that the third appeal filed by the Democratic People's Party, which had sought the nullification of the election on the grounds of unlawful exclusion, was withdrawn at the last minute by the party's lawyer, Mr M. S. Ibrahim.