In Kubwa, Abuja, local community policing is replacing the government, armed robbers are taking over as Coronavirus infections rise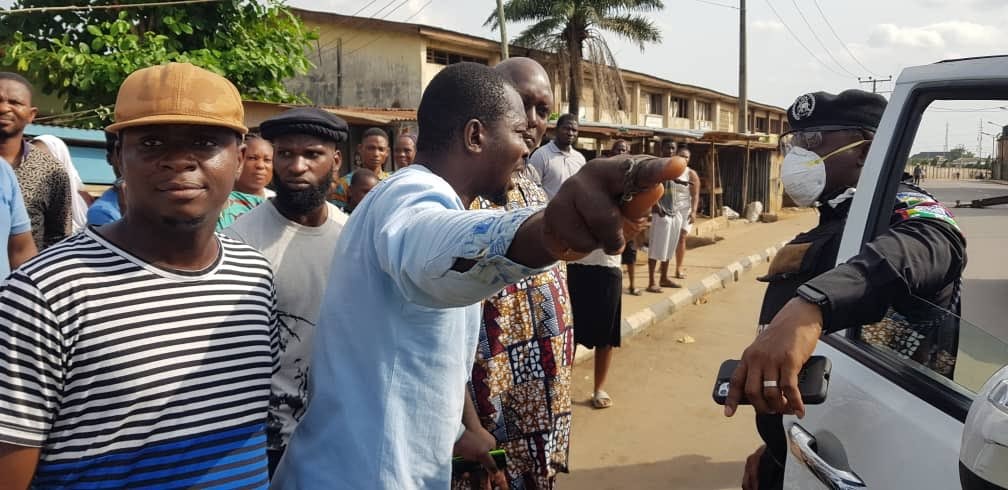 Estimated Reading Time: 5
The Nigerian government's response to the COVID-19 virus has been documented as commendable by the United Nations Secretary General as well as other local international agencies.
Unlike many countries Nigeria responded with a airspace closure, rapid information dissemination and a national lock-down.
In-country however, community theft has gone up, armed robbery cases have become rampant, and increased police brutality is being seen across the country.
In Kubwa, Abuja, local community policing is replacing the government. Residents continue to fear increases in crime will overwhelm the police stations and are setting up vigilante groups street by street.
"Na me and you dey this country o. In Nigeria, your security is your own. If you wait for the government to come and do things for you, you're sitting on a long thing." – Steve Ene, 31 tells NewsWireNGR.
The Nigerian Senate has moved for the decentralisation of the Nigeria Police Force into 13 zonal commands, each with "operational and budgetary powers."
As part of the recommendations of the Senate Ad-hoc Committee on Nigeria's Security Challenges which was considered and adopted during plenary, the lawmakers also urged state assemblies to make necessary laws to legalise community policing to be established at the local government level.
It urged state governors to fund community policing from grants appropriated to each local government. The Senate had on 29 January set up the 17-man committee headed by the Senate Leader, Abdullahi Yahaya, to investigate the rising cases of insecurity across Nigeria. The lawmakers had also called for the sack of service chiefs due to unfavourable reports of insecurity across the country.
But for an Abuja resident, Samson Josiah (real name withheld) who is in his late thirties, government response requires urgency.
He narrates to NewsWireNGR how robbery has made his life more miserable and believes community policing is the only way forward.
"My family and everyone is still in shock. My children are scared. They haven't recovered. I'm just staying strong as a man. My children's room was stained with blood dripping from the machetes they carried."
Earlier this month Samson's home and two others were attacked by armed gun-men. The attackers collected phones, laptops, cash and jewelries from their victims.
"I managed to get to the police station by 4am, not long after the robbery to report the incidence. I wasn't impressed. The police did not show up for investigations till midday."
Local vigilante's notified of the incident just after it occurred did a stop and search and found a car suspected to have been used by the robbers. The case was 'taken-up' and residents have not been notified of any further leads. More incidents are being reported like this across the country, and most of them, swept under the carpet.
Last month the Nigerian Police responded on Twitter to an alleged case where a woman died of hypertension because police officers on duty stalled her journey to a hospital while demanding a bribe. The Nigerian Police Force's Twitter handle also followed up on a case of officers flogging a civilian woman for breaking the curfew. There have been no leads on the story till date.
The dusk to dawn curfew has become a new point of conflict for local residents, and casualties also include police officers. Early May, one police officer was reported to have been killed by hoodlums over disagreements on the curfew.
In Lagos Nigeria, early April a gang self described as one-million boys operated by sending threat letters to different communities before coming out enmasse to rob those communities.
According to SBM Intelligence, "Barely two weeks into the lockdown of Lagos and Ogun states and Abuja to help curb the spread of the coronavirus, armed robbers in communities between Lagos and Ogun states have taken to the streets, striking fear in the hearts of residents".
"There was also unrest in FESTAC Town, Jankara and Ifako-Ijaiye neighbourhoods in Lagos in the afternoon of Saturday, 11 April, as gangs encircled the populated areas to rob residents and loot shops. The unrest spilled over to Abule Egba, Ogba in Ikeja, as well as some communities in Agege Local Government Area," the report reads.
Owoshoki, Igando, Apapa, Badagry, and Ajegunle areas of Lagos state are among the most terrorized areas. A movie titled '1 Million Boyz' was released in 2014 based on their thefts and activities. Over 130 suspected members of the group have been arrested by the Lagos State Police Command.
The National Human Rights Commission (NHRC) reports that law enforcers have killed more people than the Coronavirus since lockdowns began on 30 March. This included a statement by the COuncil of Foriegn Relations that at least 1,476 people were killed by state actors in the country over the past year.
In its report about Nigeria's coronavirus lockdown period, the NHRC, a government agency, said it had found "8 separate incidents of extrajudicial killings leading to 18 deaths". Nigerian security forces have not responded to the NHRC's report.
The initial lock-down in three states Lagos, Ogun and Abuja saw the rise of complaints to security agencies, posts on Facebook and Twitter and over 100 direct complaints to the NHRC from across 24 of Nigeria's 36 states.
The Nigerian Police Force has encouraged citizens to report officers who violate rules on conduct adding "the rights of Nigerians are not infringed upon under any pretext"
The COVID-19 virus outbreak resurfaces the need to indicate clear guidelines for police behavior towards civilians, and how a violation of this can thus be documented and resolved. Much has to be done around security – and much more about those that ensure our security.
The number of confirmed cases of COVID-19 in Nigeria jumped to 6175 on Monday as 216 new cases of the infection were reported in the country.
In an update on its website, the Nigeria Centre for Disease Control, NCDC, said the new cases of coronavirus were reported across 15 states of Nigeria and the Federal Capital Territory, FCT.
The highest number of the infections reported on Monday were from Lagos with 74 cases, followed by Katsina and Oyo States with 33 and 19 infections respectively.
Other states and the number of infections are: Kano (17), Edo (13), Zamfara (10), Ogun (8), Borno (8), Gombe (8), Bauchi(7), Kwara (7), FCT (4), Kaduna (3), Enugu (3), Rivers (2)
To continue telling under-reported stories, we need your support for the work we do, donate to https://www.paystack.com/paynewswirengr
Also, kindly donate to the work we do using this interim PAYPAL ID https://www.paypal.me/NewsWireNGR