From Social Media's Favourite Couple To Ex-Lovers: The Blossom Chukwujekwu & Maureen Esisi Story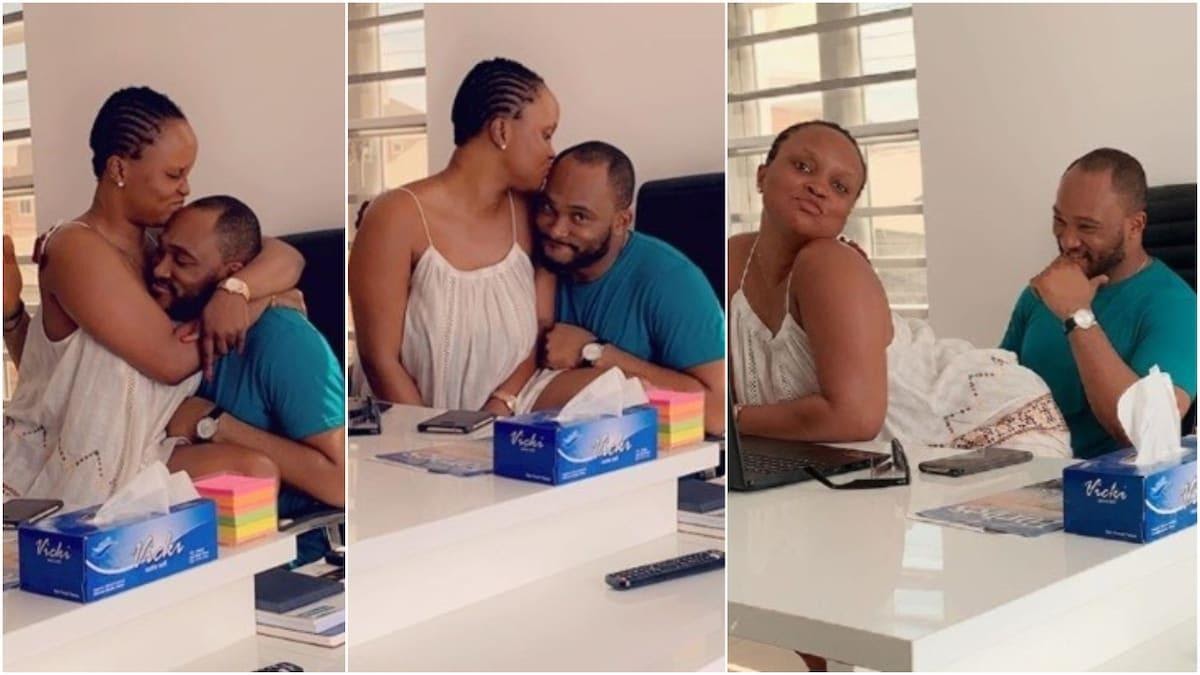 Estimated Reading Time: <1
Many Nigerians claim their fellow Nigerians are not romantic. Others are quick to say, flaunting relationships on social media is not always advisable, the story totally changes when a favourite celebrity is involved. All of us suddenly can't get enough of the gist of how good (or how bad) those relationships are going.
In 2015, Nollywood Actor Blossom Chukwujekwu announced plans to get married to Maureen Esisi. Along with the announcement, he put out pictures of himself and Maureen, who he claimed was the love of his life.
Within minutes, individuals took those pictures and began posting them on their social media platforms. And just like that Blossom and Maureen became Nigeria's sweet couple-to-be.
The two got married one month after the actor proposed. They had only dated for three months before he popped the question but it felt like they had been in love for years.
Like Banky W and Adesua Etomi's story, a bold step into the DMs is what set everything in motion. According to a post, Maureen shared on Instagram whilst they were still married, Blossom "had liked like one million of my photos without saying anything". So, she decided to do what most Nigerian ladies would not do – she slid into his DM.
Here is some of what Maureen said then about Blossom popping the question:
It was my birthday, Sep 11th.. We were just 3mths and a couple of days old dating and Quite frankly, this was one relationship I didn't plan my future with not cos I didn't love him Enuf,..So September 11 came and I was planing for my birthday party.. if y'all know my Hubby, you will know how nonchalant he can be with social media and all but what I didn't understand that day was how he couldn't understand that he had to post my picture to wish me a happy birthday (I don't bother anymore?).. well he made it clear he wasn't going to post it.. and of cos I made it clear(in my head) that we weren't dating… I was so mad at him that I acted as a single girl all thru my party.. But instead of being upset with me, He just stood at a corner making sure I was ok half the time?.. Party finished and he drove me back to my hotel, I had this attitude ehn.. in my head, sha drop me and come and be going.. He sha dropped me and I went upstairs to my room to gan change n sleep while he sed he was going to d bar… a friend was with me. As I got to my room, and was about to change, d friend insisted I don't jor, that we shud gan hang with the guys at the bar… so we sha sha sha went to d bar, and as I opened the door I see Hubby down on one knee, flash lights all on me and in shock I ran Out.. like WHAT THA…. ARE U KIDDING ME?????
After they got married, the young couple flooded our timelines with pictures and videos of themselves; those kinds that kept making all of us single person ask God "When?". They had a contagious, best friends-ish, Ride or die, kind of love that was just sweet to watch.
In one of such posts, Maureen said her husband told her he had to be at the office one Sunday. She then decided to go with him to meet the 'side chick' he had made plans with. They ended up having fun together at the office before she allowed him get any work done. And she posted a cute, picture of herself sitting on Blossom's lap to prove it. In another post, Maureen mentioned how she had mistakenly poured hot water on her skin and had started crying very profusely so much that Blossom broke down too and then picked her up and carried her out of the bathtub.
Their marriage was obviously thriving, or so it would seem.
Fast-forward to September 2019, three years after they tied the knot, social media was awash with the bad news we never expected to hear.
Stella Dimokokorkus was the first to come with the whispers. She claimed that Blossom had moved out of his matrimonial home, and had even informed Maureen's parents that he wasn't interested in the marriage any longer. She then alleged that Blossom left because he was still in love with the subject of a past love, a fellow Nollywood actress. Other speculations on social media claimed that Blossom was tired of being disrespected by his wife.
One such insider sources said: There was also lack of trust between them and there are allegations of infidelity which he could not stomach anymore…She also allegedly accused him of still dating an actress who was his ex but the straw that broke the camels back was when she went to London and allegedly came back with something that crashed the Marriage totally
People read these hoping that there were mere rumours. The rumours were inadvertently confirmed by the troubled lovers. Blossom and Maureen had followed in the footsteps of celebrity couples who had hit the rocks; they had unfollowed each other on Instagram. Blossom had even gone as far as deleting Maureen's pictures from his page. For some reason, Maureen, on the other hand, kept Blossom's pictures on her page until much later.
Most of their posts on Instagram have been deleted
To confirm lend some credence to the rumour, Nollywood actress, Padita Agu who claimed to be friends with the couple confirmed that the marriage had indeed crashed. She said: I have known Maureen Ezissi and Blossom Chukwujekwu for a long time now. I knew them each separately before they got together and one thing that remained unique about them is how amazing and such a sweetheart they both are. The news about their separation is sadly and painfully true. But the news being peddled and written about them is however very very untrue. If it is God's will, they will sort it out and be together again and if not, they will remain good friends as they move on with their separate lives.
Both Blossom and Maureen kept mum until weeks after when Blossom posted a message on his Instagram page. Hinting on the collapse, he said "Not all storms come to disrupt your life, some come to clear your path. Sometimes a broken heart fixes your vision."
A few weeks after that, Maureen went on Instagram and announce her relationship status.
In a later post, she also alluded to the fact that she was open to going back into the dating pool. "I Need a Love that Stands in Time. A Love that can Last come Rain or Shine. A Love that's Just 4 me. It's the Way Love Should be" she wrote.
One Nollywood actress who was close to the couple told NewsWireNGR, "They were actually good together. Very good. Some of us were jealous. But that's the end. It has ended. Their differences look like irreconcilable. We just have to wish them well in their respective future choices."
When asked by NewsWireNGR if there is any chance the two of them would get back together, she said, "That's what I'm saying. That's the end. Blossom isn't coming back. That I'm sure of."
Another insider source who pleaded anonymity said, "I can't really say much. But we can only pray and hope. To say one person messed up wouldn't be fair. They both messed up. But what is done is done."
To say Nigerians are stunned would be an understatement. And would you blame them? There were pictures and videos to prove that their marriage was thriving. They were the people's favourite couple for a reason. And it wasn't just because they were beautiful together. They also were real, and always teasing each other on their different social media platforms. Also, they were thriving in their respective professions.