As The APC Loses Relevance In Lagos, Lagosians Need New Reasons To Vote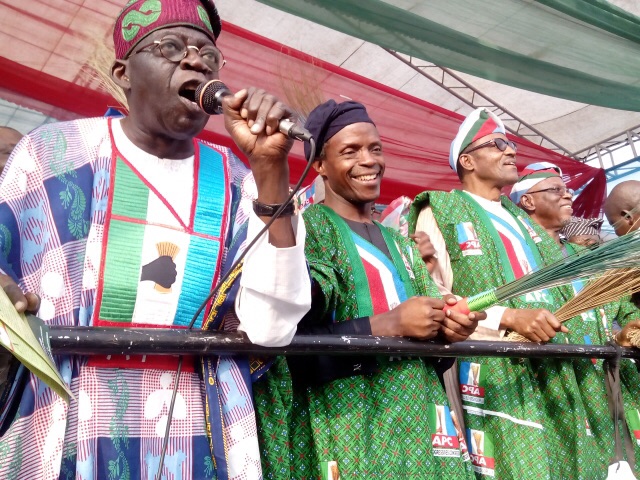 Estimated Reading Time: <1
 
In Lagos, voter apathy has reached a worrying level and it has become clear that Nigeria's commercial capital needs governorship candidates who can excite the public imagination. 

On March 9, 2019, Babajide Sanwo-Olu of the APC was returned as the governor of Lagos state, polling 739,445 votes. His closest challenger was serial contender, Jimi Agbaje of the PDP who polled 206,141 votes. 
The results showed 1.2 million people turned out to vote in a state with 5.5 million eligible voters, representing a voter turnout of 18.29%. 
A familiar pattern
With each successive election year, Lagosians are choosing the safety of their homes over going to the polls to cast their votes. 
The numbers grow worse each election year. 2011 saw a turnout of 29% while 2015 recorded a 25% voter turnout.

The numbers are puzzling. Lagos has been a one-party state for the last 20 years. How is a ruling party, which has held power for 20 years through four different candidates struggling to get Lagosians to vote?

The APC Chieftain and strongman of Lagos politics, Bola Ahmed Tinubu is not oblivious to the fact that his party is struggling to canvass new voters. In this video, he admits that the party has lost support in local governments which were once strongholds.

Alimosho local government, which has always been crucial in winning elections in Lagos is no longer a swing region. In 2003, Bola Tinubu's election victory for a second term over Funso williams was on the back of 110,302 votes from Alimosho.

In the same year, Over 200,000 votes were cast in Alimoso, a far cry from 2019, where a little over 100,000 votes were cast.

These figures point to the need for the Lagos branch of the APC to canvass a new bloc of voters. But the party has chosen the path of least resistance.
Voter Apathy As An Election Strategy
In 2015, the APC's strategy was to distract voters along tribal lines. A video of the Oba of Lagos threatening Igbo voters in Lagos made the rounds.

"On Saturday, if anyone of you, I swear in the name of God, goes against my wish that [APC candidate] Ambode will be the next governor of Lagos state, the person is going to die inside this water."
"Jimi is my blood relation, and I told him he can never be Governor in Lagos now! If you do what I want then Lagos will continue to be prosperous for you, if you go against this you will be banished to the water! Finished!"
-Oba Rilwan Akiolu (2015)
Beneath the threat was the real worry: that Igbo voters in Lagos had formed formidable voting blocs across local governments. It meant that local governments like Amuwo-Odofin and Oshodi-Isolo were no longer APC strongholds.
In 2019, the strategy was unleashing systemic violence across some of these voting blocs to scare voters in those areas from coming out to vote in elections.
Ezekwesili Nwabueze, a software Engineer who lives in Lagos attempted to vote at the last governorship election in Lagos and told NewsWireNGR about his experience.
"While we were trying to vote, armed thugs came to our polling unit even though a few security personnel were present. They threw stones and scared people away. The INEC officials were thrown off their seats and in the end, we couldn't vote"
The PDP candidate, Jimi Agbaje admitted that this was the strategy of the ruling party.
From the outset it was clear that the numbers were on our side and naturally, that was our comparable strength but the moment you had the numbers slashed, then we were at a disadvantage.
"The strategy of the other side was to make sure that those numbers did not come out to vote and to that extent it has worked in their favour,"
Jimi Agbaje is a spent force voters no longer reckon with
Jimi Agbaje is not new to Lagos politics. He has contested governorship elections in the state three times, once with the Democratic People's alliance and twice with the Peoples Democratic Party.
While voters are tired of Tinubu's stranglehold on Lagos, Agbaje is not the candidate who can provide belief and canvass a new class of voters in Lagos. He denied allegations of being token candidate over the years. But the real issue is that three losses at the polls means that he is no longer seen as a winner.
He is as disillusioned as the electorate he is trying to inspire.
A card carrying member of the PDP who voted for Jimi Agbaje in the last election, spoke to NewsWireNGR on the condition of anonymity. 
"Although I voted for Agbaje, I feel he is too close to Tinubu and his heart isn't in the game anymore.
I think there's no need for him to run anymore."
Agbaje often receives criticism for disappearing from the public eye after losing elections, failing to become an effective opposition voice to keep himself in the memory of Lagosians.
Tobi Balogun, a lawyer who lives in Lagos tells NewsWireNGR, that he believes Jimi Agbaje can be useful in other ways: "While Agbaje is a spent force, he can be vocal in supporting a new candidate, someone more exciting" 
There is no realistic chance that Agbaje will ever win an election in Lagos. What Lagos needs in his stead is a new figure, free from baggage, who can talk about the real issues.
At the front of the mind of the new candidate must be canvassing voters as well as voter enlightenment. The other issues are not new: Lagos has faced the same developmental challenges for the past 20 years.
The Real Issues
Agencies such as the Business Insider mention Lagos state as part of the worst cities to live in since 2016.

Lagos sags under the weight of its 21 million strong population. With no working infrastructure, the city makes no real attempt at becoming a mega-city, preferring instead to keep the poor out of sight.

Tolulope Adeleru-Balogun, a journalist who lives in Lagos, is frustrated by the City's failure to live up to its potential.

"The state has so much potential to do more but it's not. People don't have potable water, the roads are bad. Life in Lagos should be much better." she tells NewsWireNGR

Successive administrations are more occupied with land grabs than solving the city's housing crisis and mass evictions of entire communities are not uncommon. It speaks to the gap of quality opposition in Lagos state that the sacking of 30,000 people in Otodo Gbame never became an election topic.

Yet, year on year, the party in power, which has outsourced election campaigning to workers unions will try to rally a thinning supporter base to the polls.

Opposition candidates will often sound defeated before the final votes are cast, with most seeming to participate for the sake of it. Lagosians deserve better and the timing couldn't be better. 
The fabled Tinubu political machinery has been blunted by a disillusioned voting public. An APC party alignment at the center, which was once an exciting prospect, has done nothing for Lagos. 

The failure of Tinubu's handpicked successors must also be mentioned. 
In the final analysis, one thing remains clear: the Lagos political scene needs new names.