"Southern Kaduna Crisis Not Religious" – Dambazau Threathens Religious Leaders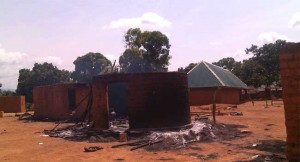 Estimated Reading Time: <1
Abdulrahman Dambazau, the Interior minister has warned political and religious? pundits against reading religious connotation to the crisis in Southern Kaduna.
The minister said this in a statement issued on Tuesday in Abuja, by his Press Secretary, Mr Ehisienmen Osaigbovo,
The minister called on Nigerians to refrain from? making comments capable of heightening the crises.
He pointed out that some people were always looking for ways to further create division along religious or ethnic lines for their selfish interest.
They aim at creating instability in the country, he said.
He said that true religious leaders should not? fan the embers of hate, but ensure that communities live in peace and harmony.
He called on the people to join hands with government to end the perennial problem and forge the economic development of the country.
"Economic growth and development will remain a mirage for Nigeria, with over 500 ethnic groups and multiple religions, unless we resolve to live amicably as a people with common destiny," he said.?
He said that? ?criminals who perpetrate violence against innocent, law-abiding citizens did not discriminate along religious and ethnic lines.
He cited examples of how Communities in Zamfara, Katsina, Taraba, Enugu, Lagos and Niger were victimised by those violent criminals.
"A criminal should be treated as such, whether he is involved in armed robbery, drug trafficking, homicides or cattle rustling.
"People should avoid honouring criminals with religious or ethnic attachment," he added. ?
He advised opinion and religious leaders to focus on the real enemies of our society, who illegally acquire weapons to terrorise Christians and Muslims communities alike.
Dambazau said he had directed the Nigerian ?Police to ensure the sustenance of law and order, and to arrest and prosecute anyone involved in criminal activities in the area and across the country.
He assured Nigerians of government's commitment to tackling the root causes of similar crisis in all parts of the country.