Dasuki Trial Put Off till January 25, 2017 …. Ex-DFA ONSA Hospitalised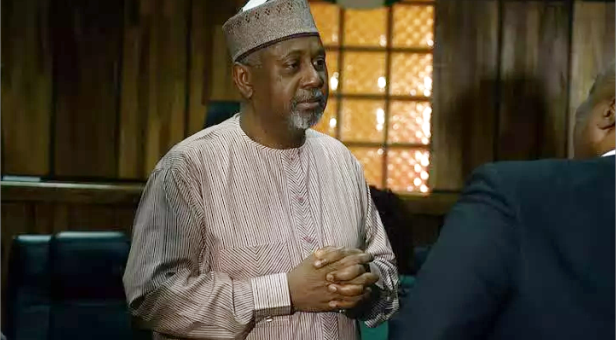 Less than one month after the demise of his father and former Sultan of Sokoto, Alhaji Ibrahim Dasuki, the Federal Government brought retired Colonel Sambo Dasuki, a former National Security Adviser before FCT High Court for trial in the alleged $2.1bn arm fund misappropriation but the trial was however put off to January 25, 2017 by the Court.
The adjournment followed the absence of one of the defendants in the trial, Mr. Salisu Shuaibu, a former Director of Finance and Account (DFA) in the Office of the National Security Adviser (ONSA), who was said to have taken ill and hospitalised.
The information on the sickness of the defendant was conveyed to the court by the prosecution counsel, Mr. Oluwaleke Atolagbe who informed Justice Baba Yusuf that he had been served with the medical report of the defendant confirming that he had been hospitalised.
Atolagbe informed the court that the trial could not proceed in the absence of the defendant and therefore applied for a short adjournment pending the recovery of the defendant.
Counsel to Shuaib, Mr. Adetayo Adeyemo apologised to the court that his client could not present in court because of his illness. He told Justice Baba Yusuf that the medical report of his client already being made available to the court, prosecution and other parties in the trial.
Lawyers to other defendants did not object to the application for an adjournment since Salisu had always being present in court since the charge was filed against them.
Justice Baba Yusuf in his brief ruling, noted that since the charge was filed, the second defendant had never being absent in court and that for that reason the court is obliged to grant the request for the adjournment.
After consultations by the lawyers in the matter, January 25, 2017 was proposed and was endorsed by the Judge.
Meanwhile the second charge referred from Justice Peter Affen to Justice Baba Yusuf was similarly adjourned to January 24, 2017 for mention. The charge was adjourned by Justice Baba Yusuf for the reason of absence of Salisu Shuaib who is third defendant in the charge. The adjournment was at instance of Salisu Shuaib who is absence due to illness.
The Federal Government has put Colonel Dasuki, Shuaibu Salisu, Aminu Baba Kusa, Acacia Limited and Reliance Referer Hospital on trial on the allegation of misappropriation of the said $2.1bn.
The five defendants have since denied the charges and had been granted bail by the court which government obeyed except for that of Colonel Mohammed Sambo Dasuki who had been clamped into the detention since December 2015.