Buhari's Govt Causing A Decline In Education – ASUU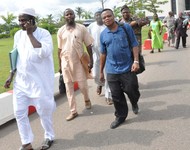 The administration of President Muhammadu Buhari is sliding the country's educational sector into a decline, said the Academic Staff Union of Universities (ASUU) at the university of Jos (UNIJOS) .
Dr. Christopher Piwuna, chairman of the local chapter of the union told a gathering of lecturers and other members of the university community during a public lecture at the university campus, titled "Labouring Backwards: The Plight of the Working Class Under Economic Recession.
He said that that the current administration has attacked the autonomy of the universities. He said "Under the current leadership, the autonomy of the universities have come under serious attack with the removal of Vice Chancellors and the dissolution of governing councils becoming the norm,"
He said the federal government has continued to linger on the release of the balance of earned allowance, a special welfare package for academic staffs, while providing funds for states as bailouts to clear backlogs of salary arrears was unacceptable for ASUU. "
"Thepresident should have no one to blame other than his officials in the education sector as National Executive Council of the union (NEC) meet this week to decide on whether we should withdraw our services across the country.