"You're Free To Step Up Oil Exploration In The Northeast But Forget About Niger Delta" – Avengers Tell Buhari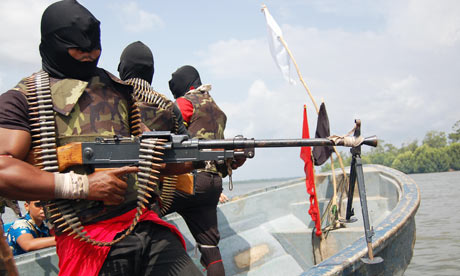 Niger Delta Avengers, NDA, has said that President Muhammadu Buhari was free to step up oil exploration in the North East, but should forget about export of a drop of crude oil from the Niger Delta.
Spokesperson of the militant group, self-styled Brig Gen Mudoch, in a statement, entitled, "Your drones won't stop us" alleged that the federal government was preparing for a military offensive in the region and using dialogue as a subterfuge.
"Also note that you will not be able to export one litre of crude in the Niger Delta, just intensify the oil exploration in the North East.
As for the ones in the Niger Delta, forget about it because the Nigeria government won't export a drop from our land," it said.
The statement read: "The NDA intelligence agency gathered that the said peace talk or dialogue by the federal government is a delay tactic employed by the federal government to enable their purchased drones that are said to arrive latest end of August from the United State."
"This whole thing makes us to wonder what kind of country is this. We can all see that President Buhari- led government is a fraud. They are not serious about any dialogue and made it seem the Niger Delta Avengers are the ones not ready for dialogue.
"Mr. President you can purchase all the drones in Europe and Untied State. It will not stop the Niger Delta Avengers from bringing the country's economy to zero. The worse you can do is to kill poor innocent people which the military is good at, but know the Nigeria Economy will suffer," the group added.