DSS Arrests Suspected Member of The Niger Delta Avenger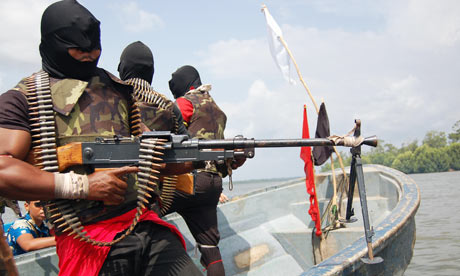 Estimated Reading Time: <1
Nigeria's secret police, the Department of State Service, DSS has announced a series of arrests. Some of those nabbed include suspected members of Niger Delta Avengers and members of the Independent People of Biafra, IPOB group. Also, the Service according a statement by Tony Opuiyo said some kidnap kingpins and members of kidnap syndicates have been arrested.
Top on the list of those arrested were members of Niger Delta Avengers including the one plotting to assassinate a serving military officer in Kaduna. The DSS said "In a bid to stem the activities of vandals in the Niger Delta, this Service effected the arrest of Selky Kile TORUGHEDI, on 17th June, 2016, in Calabar, Cross River State. TORUGHEDI is an ex-militant and suspected member of the Niger Delta Avengers (NDA), and was arrested for planning to assassinate one MB.YAHAYA, a serving military officer. TORUGHEDI, who is a close associate of Government EKPEMUPOLO (aka TOMPOLO), had already conducted surveillance at the residence of YAHAYA in Kaduna, preparatory to his plot when he was intercepted. He is also fingered as a sponsor of pipeline vandalism in some States in the South-South region. Suspect is currently assisting the Service, with critical leads.
"In a related operation, this Service arrested one Christian OLUBA aka SENSOR, another suspected militant with the Niger Delta Avengers (NDA). SENSOR was arrested while perfecting plans to carry out explosive attacks on critical oil and gas pipelines, including critical storage points.
"Meanwhile, sequel to increasing threat posed to public peace by the activities of the Independent People of Biafra (IPOB), this Service arrested one Chidiebere ONWUDIWE, a graduate of Mechanical and Chemical Engineering and known member of IPOB, on 22ndJune, 2016. ONWUDIWE and his associates within and outside the country, were planning to carry out coordinated attacks against religious bodies/edifices, Police-Check Points and the computer village in Ikeja, Lagos State, with Improvised Explosive devices (IEDS). The suspect was apprehended while making logistics supplies for their nefarious plan.
The DSS statement reads in full: "The general public is aware that in recent days, some States of the Federation have witnessed spate of kidnapping incidents perpetrated by criminal elements in a bid to further their selfish pecuniary and/or criminal interests. In furtherance of security measures initiated to checkmate this trend, series of special tactical operations were carried out by this Service, where successful arrests of masterminds of these criminal gangs were made by the Service, while their hide-outs were decimated.