Petroleum Minister Says Nigeria Can't Fix Oil Refineries, Hopeful Investors Will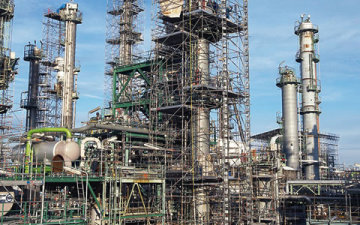 The Minister of State for Petroleum, Dr Ibe Kachikwu, said on Saturday that the Federal Government needed 700 million dollars to upgrade its refineries to produce at maximum capacities.
Kachikwu, who is also the Group Managing Director of NNPC, disclosed this while speaking with newsmen during the re-inauguration of the Port Harcourt/Bonny Crude Supply Line at the Port Harcourt Refining Company (PHRC), Eleme, Rivers.
He said that due to the fact that the nation did not have such amount, advertisements had been signed for investors to come in.
According to him, we are not inviting foreign partners to take over the refineries; the total investment for that is up to $700 million and we don't have that. Let us be honest about it.
"So, the best thing to do is to find a very creative way to bring in investors, who will come in, work with our team here;
"Investors, who have the skills to reactivate and upgrade facilities in this place and help us provide technical support and we will pay through the flow-out of the refined products over time," he said.
Kachikwu emphasised that there should be no confusion about what the investors would be coming to do, since they would not come to run the refinery.
"They are coming to provide funds to take our performance on these refineries to 90 percent and to provide us with technical skills.
"So, the areas of intervention will be funding and technical support," he said.
Kachikwu said that at present, Nigerians were consuming about 45 million litres of PMS daily, while the refineries were producing 12 million litres daily as they were working at 60 per cent capacity.
He said that the nation will need to upgrade these refineries and let them develop to the point where they can perform up to 90 per cent.
He said that by the time the refineries were upgraded and they start producing at 90 per cent, about 20 million litres would be produced daily.
The minister said that with such production, it would only meet up with about half of the country's consumption.
Kachikwu, however, apologised to Nigerians for their suffering due to the fuel scarcity and also thanked Nigerians for their patience.
He explained that the government had been able to recover the two critical crude supply pipelines; which were Escravos/Warri and Bonny/Port Harcourt crude supply pipelines.
Kachikwu said that the pipelines were down for six to seven years but had been repaired and were working and supplying crude to the refineries.
"For the first time, the refineries will get their crude, pay for it, they will sell their products and they will earn the income from that product.
"And then, they can develop and continue to maintain the refineries even after this intervention is over.
"Port Harcourt is back in production, Warri is back in production; Kaduna today is receiving and will soon be back in production. It is something of joy," he said.
Kachikwu said, "Lagos is easing off now from fuel scarcity and Abuja is doing the same thing; once Kaduna begins to produce, the North will see a lot of improvement.
"Over and above that, we are putting long term policies in place to ensure that while smaller marketers go out and do their stuff, we can then be the key suppliers for the rest of the country."
He commended the workers and the contractors for a job well done; adding that he has signed the promotion letters of the PHRC staff as they deserved to be rewarded.
Kachikwu, however, said there is a lot still to be done, "I told you I will never give up.
"We owe Nigerians the duty to ensure that the refineries are working. We owe Nigerians that, we can't give up," he said.
The minister urged Nigerians to remain resilience, "support what the government is doing because this is the only way to change the system."