FG Re-inaugurates 46km Escravos-Warri Pipeline For Easy Supply of Crude To Refineries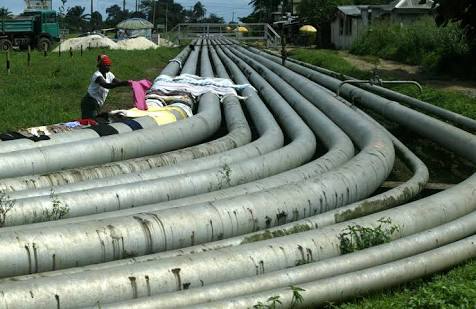 Federal Government has re-inaugurated the 46 kilometres Escravos-Warri-Kaduna pipeline for easy supply of crude to the refineries.
This is contained in a statement signed by Malam Garba Deen Muhammad, NNPC Group Public Affairs Manager, on Saturday in Abuja.
The statement quoted the Minister of state for petroleum, Dr Ibe kachikwu as saying that the completion of the underwater crude pipeline would be difficult for pipeline vandals to damage.
He said that both Warri and Kaduna refineries would now be receiving crude oil simultaneously for the first time in many years.
The minister said that the Warri refinery had started working while Kaduna would start production at the end of the month.
"This means that for the first time in many years, all the three refineries and major crude pipelines will be working at the same time," he said.
According to minister, Escravos terminal is the heart beat of the downstream sector and critical to local supply of finished petroleum product.
He added that both refineries in Warri and Kaduna were majorly fed from Escravos crude stock.
"The challenge of this country is the challenge of focus and stewardship.
"For the first time in many years the three refineries are going to be working and it will help in a great deal with the issue of fuel supply and distribution across the country.
"It will go a long way to manage the fuel crisis,'' he said.
kachikwu enjoined Nigerians to be more patient as the Corporation was working hard to end fuel shortage across the country.