Chris Ngige Defends Buhari Says Nigerians "Complaining Of Hardship Are PDP Loyalists"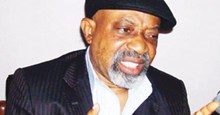 Estimated Reading Time: <1
Minister of Labor and Employment, Chris Ngige, says Nigerians who are complaining of hardship in this present administration are PDP loyalists.
According to Ngige, this government which will be marking it's first anniversary on May 29th, is working towards the betterment of Nigerians.
He said this in a recent interview with The Sun Newspaper:
"I don't know what you mean by hardship and those you call Nigerians. Are they the federal civil servants getting their monthly salaries as and when due? We don't owe them, not even allowances and there is no reason they should be unhappy with the APC govern­ment.
"Are the okada riders among those complaining when they are making brisk businesses or the gradu­ates we will soon address their problem of unemploy­ment after the passage of the budget? Unemployment is the harbinger of Boko Haramism, harbinger of IPO­Bism, OPCism and militancy in the Niger Delta. It is a scourge and serious disease condition that we must fight and that is why we are in this ministry and government.
"We have job creation programmes under the supervision of the Vice President and other inter-ministerial ones that will be rolled out very soon. By the time we roll out, more funds will be put into the economy. Let us warn that the funds are not for stealing.
"The only difference between APC and PDP is the stealing of the lots of floating funds. Many of the elite were grabbing these floating funds and they are the ones protesting that they are not happy with the present government.
"Those complaining especially the elite are members or loyalists of the PDP. We are not bothered because we are going to continue with our common-people's programme and I want to assure that the tide will soon change. So, we are waiting for the budget.
"Don't forget that we are not the ones that appropriate funds but the National Assembly.
We have given them budget, done some alterations and amendments as needs be in areas where some people try to mutilate and we are waiting for now. Once they approve the budget as proposed, we roll out our programmes"he said.