Nigerians Urged To Brace-Up As Government Removes Petrol Subsidy Next year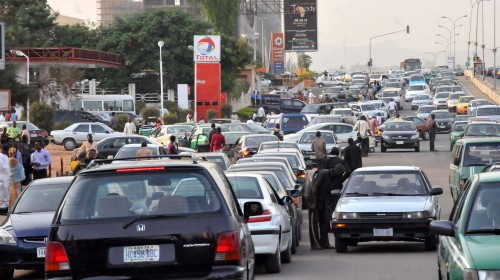 Estimated Reading Time: <1
Federal government Monday alerted Nigerians to prepare ahead for what it termed, more austere conditions in view of the strict economic policies being put in place by the Muhammadu Buhari led administration, just as it vowed to strictly monitor expenditure of all Ministries, Department and Agencies, MDAs to avoid wastes.
The Federal government has also planned to in that 2016 budget, reduce the Personnel cost form N1.8 trillion to N100 billion as part of moves to reduce expenditure and save cost.
According to the government, an excess of N1 trillion was spend on fuel subsidy in the year 2015 which include the Nigeria National Petroleum Corporation, NNPC, just as it disclosed that attention would be given to Internally Generated Revenue, IGR to fund the N6 trillion 2016 budget, adding that in 2016, it would remove fuel subsidy, move the price of petrol per liter from N87 to N97.
These were disclosed Monday when the Ministers for Budget and National Planning, Udoma Udo Udoma; Finance, Mrs Kemi Adeosun and State for Petroleum Resource; Emmanuel Ibe Kachikwu; Governor, Central Bank of Nigeria, Godwin Emefiele; Executive Chairman, Federal Inland Revenue Service, FIRS, Babatunde Fowler appeared before the joint committee s of the National Assembly on Finance to defend the 2016, 2017 and 2018 Medium Term Expenditure Framework and Fiscal Strategy Paper, MTEF & FSP documents presented to the National Assembly by President Muhammadu Buhari.
Speaking earlier, Minister for Budget and National Planning, Udoma Udo Udoma who noted that it was important that substantial reductions were made on the spending pattern if the expected change must come in, said, " In preparing the MTEF, we seek a dramatic shift from spending on recurrent to spending on capital aspect of the budget. It is going to be tighter for everybody. All non essential expenditure would be cut out.? We will reduce the overheads by 7 per cent. We are beginning a journey of change and Change has to start with the clarity of purpose of where we are going?.
Udoma who noted that the MTEF was prepared in such a way that it would help combat the economic challenges ahead, said that ?"challenging times need firm and robust response. This is what the MTEF represents. It was also designed to create better governance; to turn things around and promote economic prosperity for the people."