EFCC Currently In A Dilemma On How To Question Emir Of Kano Over The Arms Fraud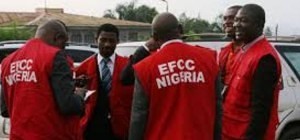 Estimated Reading Time: <1
The spotlight has beamed on the Emir of Kano, Lamido Sanusi, in the ongoing investigation of the Economic and Financial Crimes Commission (EFCC) into Sambo Dasuki's alleged diversion of the $2 billion arms funds.
Sanusi, before his installation as the Emir was governor of the Central Bank of Nigeria before he was removed by former President Goodluck Jonathan.
The EFCC is looking to question Sanusi on several disbursements of funds to the office of the former National Security Adviser, Dasuki who is in detention for money laundering, breach of public trust and diversion of public funds was the chairman.
The agency is indecisive on how to approach the Emir regarding the huge sums of money taken away from the nation's apex bank under the guise of security.
The commission, it was gathered last night, is contemplating whether to invite Sanusi or go to meet him quietly to interview him on the funds moved from the bank to the National Security Adviser, during his tenure and why such disbursement were never questioned or declined by him.
A top EFCC official has reportedly visited Kano and would possibly look for a chance to interrogate the Emir and return to the nation's capital.
The other CBN governors however, would not be enjoying the reverence that the agency is according Sanusi as reports suggests they would soon be invited for questioning at the agency's office in Abuja.
The current governor of the CBN, Godwin Emefiele would also be extended an invitation to explain his role in the arms scandal.
Top bank officials across the nation also would possibly soon be invited by the EFCC.