Buhari Must Make Tough Choices To End Fuel Scarcity, Says Oby Ezekwesili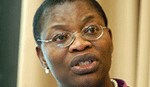 Estimated Reading Time: <1
Former Minister of Education and campaigner of "Bring Back Our Girls", Mrs. Obiageli Ezekwesili has said that for President Muhammadu Buhari must made hard choice to be able to end persistent fuel scarcity in the country and put the economy in proper way.
Reacting to fuel situation in the country through her twitter account, Ezekwesilli said that Nigerians were losing huge productivity hours to
find and buy fuel, a situation, she said, was inconsistent with Nigeria's desire to improve efficiency.
She said that Nigeria squandered the opportunity to build its reserve and Excess Crude Account to close to $100 billion.
In her several tweets, Ezekwesili said it was shameful to see people who oversaw and supported the depletion of Nigeria's huge oil reserves
for six years walking freely.
"The tragic thing is seeing people who oversaw or supported the depletion of huge revenues in six years stumping around," her tweets read.
"What a huge difference, had nigeria built up reserve including excess crude of say $100 billion as should have been! Squandered opportunity."
She said most citizens do not want "endemically corrupted" oil subsidy scheme to continue, adding that the Federal Government must convince Nigerians with credible sector reform plan.
"This Administration has tough choices to make in order to end this embarrassment of fuel scarcity in an oil exporting country. JUST DO IT!" she stated.