Saraki Moves To Stop Code Of Conduct Tribunal Trial At Supreme Court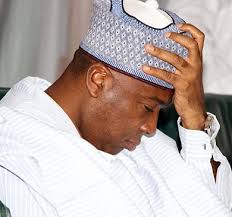 Estimated Reading Time: <1
Senate President, Bukola Saraki, has formally sought the shield of the Supreme Court against his trial on 5 November at Code of Conduct Tribunal ( CCT ).
The move is the embattled senator's last ditch attempt to stop the trial slated to begin tomorrow. He is facing a 13 count charge of false assets declaration.
His effort at the Appeal court collapsed on 30 October, after judges ruled 2-1 that the trial should continue.
In a seven-point appeal by his lawyers at the Supreme Court, Saraki wants the Court of Appeal judgment and the entire proceedings of the CCT and the charges preferred against him before the tribunal set aside.
Here are the seven grounds of the appeal filed by Mr. Joseph Daudu (SAN), Saraki's senior lawyer:
*That the appeal court erred in law when it affirmed the competence of the proceedings of the Code of Conduct Tribunal, which sat on the appellant's case with only two members as against the three provided for in the provisions of Paragraph 15(1) of the Fifth Schedule to the 1999 Constitution.
* That the majority decision of the appeal court erred in law by affirming there was no lacuna regarding the quorum of the tribunal.
*that the application of the Interpretation Act to hold that two out of three members of the tribunal could validly sit "is to circumvent and reduce the number prescribed by the Constitution for the due composition of the CCT".
* That the majority decision of the appeal court erred by ruling that the CCT is a court of limited criminal jurisdiction and that the charges were validly initiated in the absence of the Attorney-General of the Federation.
*That the appeal court erred by agreeing that Saraki had been properly served with the charges when only his legal team had filed a conditional appearance before bench warrant was issued against him by the CCT.
* that the court of appeal erred in law for refusing to hold that the tribunal violated the order of the Federal High Court in Abuja which he said ordered the tribunal to appear before the court to show cause why its proceedings against Saraki should not be halted.
* that the appeal court erred in law when it held that the Administration of Criminal Justice Act 2015 was applicable to the tribunal.
The Court of Appeal had by a two-to-one split decision on October 30, dismissed Saraki's appeal against the ruling of the Justice Umar Danladi-led tribunal in which it affirmed its jurisdiction to hear the charges against the Senate President.
Justice Moore Adumein who led the panel and Justice Mohammed Mustapha dismissed the appeal for lacking merit, while Justice Joseph Ekanem in his dissenting judgment? ? upheld the appeal and discharged the Senate President of the trial before the CCT.
With the move, the Code of Conduct Tribunal amy yet adjourn proceedings when it convenes on Thursday, as scheduled.