Cardinal Olubunmi Okogie Says No Difference Between The Jonathan & Buhari's Government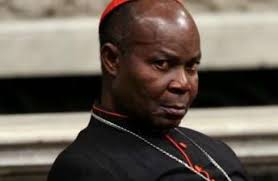 Estimated Reading Time: <1
Anthony Olubunmi Okogie the fiery and critical clergyman had an interview with Saturday Sun. He says events of the last four months in Nigeria have shown that there is no difference between the administration of former President Goodluck Jonathan and incumbent President Muham­madu Buhari.
Read Excerpts of the interview:
How do you see the ministerial list, especially af­ter the long wait?
When I was listening to the broadcast of the incumbent president during his swearing–in, I beat my chest, can this man say, those things were written by him? I ask myself is this the Buhari I knew 2011, that wrote this? Even though it was written for him, can he not sit down and read and re-read again, and ask him­self, if he can follow all those things written down. Looking at the statement he made 'I belong to everybody but nobody'. Look at the list of ministers, he belongs to nobody, I laughed. It means he belonged to APC.
And with the list, they are now trying to pay back those who were their bag carriers, that is what am seeing, that is not Nigeria which we fought for, it's painful. So, what is com­ing ahead if care is not taken and this crop of people if they don't work hand in hand, we are going to have a bad future, because the youths now, they are just waiting, they are now say­ing that the elderly ones in this country, can't be trusted, they are looking for their time and when that time comes, they will not carry arms, they will do it in such a way that you will not even know that they are the one.
The people who have served in different ca­pacities should have given room for the young­er ones to go in and serve. OBJ used to say I sit down dey look (laugh), I don't know what he has to say to all this, but I know he has a part in it. I said it loud and clear, how come this one say I brought my list, am hearing this from the common people. I know when they come down they say all sort of things, how many list do you want, how many different people brought their list? And yet you said, you be­long to nobody, how can you not be confused, when you said you're waiting for an angel, to come and rule the nation, I laughed. Out of the abundant of the heart, the mouth speaketh. If I were in his shoes, (Buhari) I tell you, this is his last time. He tried it thrice and now that the good Lord brought him back, can't he use this opportunity to do something better?
One thing am seeing again from what is go­ing on, there is acrimony, during the campaign they were just attacking one another, that hap­pened then. People who said they have gone to secondary school, not to talk of university are behaving this way, is it how to keep the nation together? Where is the patriotism in that list? How can you tell me that these people are go­ing to work?
Are you disappointed?
Yes, am disappointed in both parties, not just APC alone. When you look at what is going on, what is happening is just the tip of the iceberg. They have not started work at all. Look at the way they selected their members, there are some people who put on APC cloth, they are wolf in sheep clothings, they are PDP down, down their mind and they came out as APC. That is why they are now having the Saraki and there are so many of them still there, are we having an Assembly and sena­tors as gang of robbers or gang of rascals. Is it what we are having now? If someone is to do that to their family, would they be happy, not to talk of a big nation like Nigeria. Buhari is going to have a tough time with this set of people, am telling you, am not a prophet. The game of Saraki, I put it in the middle. If these people begin to work, we will see and hear wonders. I hope they won't drag us down to the earth. Look at our football team, the only thing that brings us together, look at the good old days, you hear Nigerian football as one of the best in the world, but today what has become of it?