President Obama Sends Troops, Drones To Cameroon To Support The Fight Against Boko Haram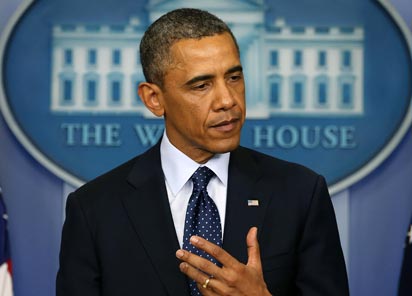 The United States President, Mr. Barack Obama will send 300 troops and surveillance drones to West African in an effort to bolster the fight against the Nigerian militant group, the Boko Haram which is responsible for the death of over 20, 000 persons and destruction of thousands of properties in Nigeria and its neighbours.
The troops will be based in Cameroun, United States officials said Wednesday.
In a notification to Congress, President Obama said an advance force of about 90 military personnel began deploying on Monday to Cameroon, with the consent of the Yaounde government, a Reuters report said.
The troops will "conduct airborne intelligence, surveillance and reconnaissance operations in the region," Obama said.
"These forces are equipped with weapons for the purpose of providing their own force protection and security, and they will remain in Cameroon until their support is no longer needed."
The agency report added that, U.S. officials, speaking on condition of anonymity, said the troops would provide intelligence to a multi-national task force being set up to fight Boko Haram and composed of troops from Nigeria, Niger, Cameroon, Chad and Benin.
The American officials said the U.S. soldiers would deploy initially to the city of Garoua in northern Cameroon, not far from the Nigerian border. The force will include Predator drones for surveillance, they said.
The White House said the move was not in response to any changed assessment of threat in the region.
The United States has no combat troops in Africa, but has been increasing support to allies in the region battling Boko Haram.