Femi Adesina Assures Nigerians That Buhari Will Balance His Appointments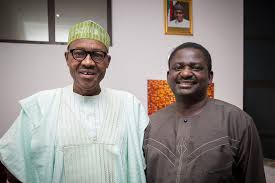 Estimated Reading Time: <1
The Special Adviser to the President on Media and Publicity, Mr. Femi Adesina, on Friday assured Nigerians that President Muhammadu Buhari's political appointments will balance out very soon.
Adesina spoke while featuring on a radio programme, Political Platform, on RayPower 100.5FM, monitored by our correspondent.
He was reacting to criticisms that have trailed the President's appointments, which are believed to favour the Northern part of the country.
Adesina said the President was aware of federal character and expressed the believe that there would be balance by the time he made more appointments in September.
While saying appointments were Buhari's prerogative, the presidential spokesman also said nobody can fault the fact that those named so far ?were appointed on merits.
He also said it would not be fair for the President to be blamed for positions that were filled as a result of elections, like those of the National Assembly and appointments made as a result of next in command, like those of the acting Chairman of the Independent Electoral Commission and that of the Chief Justice of Nigeria.
He assured all stakeholders that the President would keep to his promise of appointing the remaining aides and ministers ?in September.
Adesina said, "Nobody can fault the fact that the persons appointed were appointed on merits.
"In terms of the spread, the President has prerogative to appoint and he knows there is federal character. I am sure that there will be balance in the future. These are still early days. At the end of the day, we will have a balance.
"By the time more appointments are made, it will balance out. The President is trying to get the very best of Nigerians. The issue of key positions and no key positions should not be the issue.
"He gave a deadline of September for the appointment of ministers ?and he will keep to it."