Ex-National Security Adviser Sambo Dasuki Forcefully Arrested In Abuja, After State Security Invaded His Home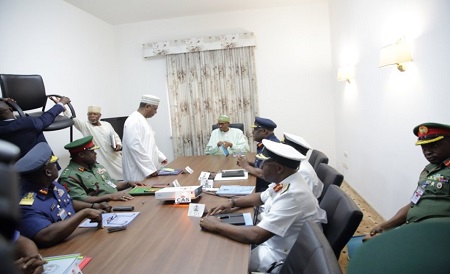 Operatives of the Directorate of State Service (DSS) yesterday night may have arrested former national security adviser (NSA), Col Sambo Dasuki (rtd) in his private residence at Asokoro, Abuja.
On President Muhammadu Buhari's orders, the DSS operatives had laid siege at the Abuja residence of the ex-NSA. The operatives stormed the house at about 6:40pm, but were prevented from gaining entrance into the premises.
There was no official confirmation of the arrest yet but multiple security sources confirm that Dasuki was whisked away by the DSS.
The former NSA coordinated the war against terrorism and his office received billions naira to prosecute the counter-insurgency operations against the violent Boko Haram sect.
"You know Dasuki had planned to resign immediately there was a change of government but President Muhammadu Buhari refused to accept because he wanted to clear the Augean Stable in the defence sector.
Dasuki is said to have been arrested just three days after he was sacked by President Muhammadu Buhari.