Updates: 50 Killed, Several Injured In Gombe Multiple Market Explosion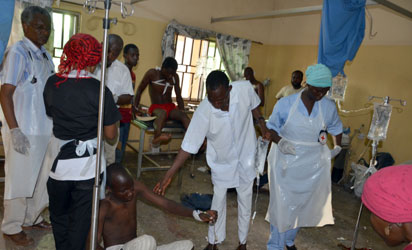 Estimated Reading Time: <1
A twin explosion rocked the city of Gombe, the Gombe capital killing at least 50 people and injuring several others. The victims were doing their last-minute shopping for today's sallah celebration.
Police commissioner Kudu Nma Abdullahi confirmed the incident at the State Specialist Hospital where some of the victims were receiving treatment.
He said the explosions occurred around 5:20 pm somewhere at Gombe Main Market.
Abdulahi said: "We had information of a twin blast. That means there is a bomb blast. It either was a suicide mission or an I.E.D. (Improvised explosive device) kept somewhere where they sell slippers and wears.
According to him, the area was immediately cordoned off to avoid looting of people's shops by hoodlums, adding that the situation had been brought under control.
He called on residence to continue to maintain vigilance, reiterating the need for people to continually remain suspicious of the movement of people they do not know.
"Anything they suspect, they should quickly raise an alarm or inform the security agents so that we can come in immediately," he said.
An eyewitness said he saw and counted about 46 dead bodies besides the mangle bodies that he could not ascertain.
He said he was one of the first to arrive at the scene with the intention to help, hence he had enough time to do the counting
The eyewitness said: "There were other bodies blasted into pieces and you know I cannot count and ascertain how many bodies they were."
Another source, Musa Mohammed, who has an orange stand near the market said his son, who is an apprentice at a nearby shoe shop, sustained injuries but that two of his colleagues died.
Mohammaed said the blast went off at a kitchen utensils shop and everyone in the shop died; "both the shop owner and his boys as well their customers, but I don't how many people were in the shop by that time".
The Police Commissioner had as part of his sallah message called on the people of the state to be security conscious.