Abia Governor Moves To Demolish Illegal Structures In Aba To Restore Original Master Plan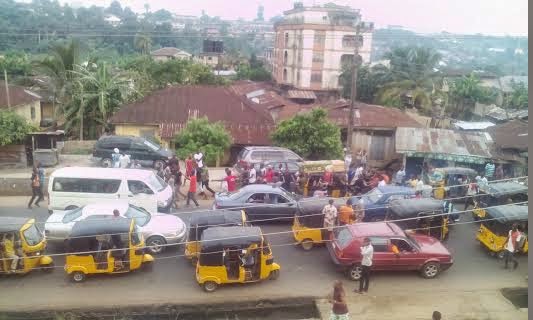 Governor Okezie Ikpeazu of Abia State has said he is set to commence the much expected demolition of illegal structures in Aba, the commercial nerve centre of the state.
Ikpeazu in a statement issued by his Chief Press Secretary, Mr. Godwin Adindu, called on members of the public whose structures were illegally sited to dismantle them or have them demolished by government task force.
The statement read in part: "The Government of Abia State is, by this notice, informing all property owners in the Aba metropolis and the general public that, in line with the government's commitment towards the rebuilding of the city of Aba, which necessitated the establishment of the Aba Urban Renewal Office, the agencies of government will commence a demolition exercise of all structures, property, stalls and shop which encroach into the road, seven days from this announcement.
"The properties to be demolished include, but not limited to, buildings on service lanes, illegal shops, illegal fences and such other structures that constitute a blockade to the free flow of traffic and drainage.
"You cannot make omelet without breaking eggs. If we must have the Aba city of our dream, we must be ready to make the utmost sacrifice.
"Government therefore call on all concerned to take appropriate measures before the arrival of the bulldozers."
Aba has suffered from perennial flooding due to its table landscape according to experts who have severally recommended demolition of structures obstructing water channels.
But no administration in the state seemed to have mustered the political will-power to do the needful which, according to a government source, will affect over 100,000 buildings.
Perhaps in line with a popular slogan in the state that "it is only Aba son that will build Aba."
Ikpeazu, who is the first Abia Governor of Aba-Ngwa extraction, appears set to demolish the illegal structures.