Falana Calls On Oba Akiolu To Apologize For His Inflammatory Remarks Against Igbos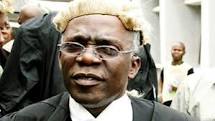 By Chris Nomjov
Legal luminary and human rights activist, Femi Falana has called on the Oba of Lagos to issue a public apology to the Igbo community in Lagos, over his threats to evacuate them from the state and into a lagoon, if they do not vote for his preferred governorship candidate, Akinwunmi Ambode, in Saturday's election.
"Last Sunday, Oba Rilwan Akiolu was reported to have threatened to deal ruthlessly with the Igbo people in Lagos state if they fail to vote for the candidate of the All Progressives Congress, Mr. Akinwumi Ambode in the governorship election slated for Saturday, April 11, 2015. The diversionary threat should not be condoned in a decent society. It is totally unacceptable as it is a mockery of the political objective of national integration.
"It is illegal as it clearly offends section 42 of the Constitution which has prohibited discrimination on grounds of ethnicity, religion, political opinion, creed or sex. Although the Oba lacks the power to cause anyone to "die in the Lagoon within seven days" the threat constitutes a violation of the fundamental right of thousands of citizens to life.
"In the case of Director-General of State Security Service v Olisa Agbakoba (1999) 3 N.W.L.R (PT 595) 314 it was held by the Supreme Court that "it is not in dispute that the Constitution gives every Nigerian citizen the right to move throughout Nigeria and to reside in any part thereof. It also guarantees to the citizen the right not to be expelled from Nigeria nor be refused entry or exit therefrom."Since the residency right of every citizen is constitutionally guaranteed the Igbo people in Lagos should discountenance the threat of Oba Akiolu.
"It is pertinent to remind the Oba that Lagos has continued to provide accommodation for Nigerians from all walks of life. Hence, after the civil war, there was no case of "abandoned properties" in Lagos. From time to time, armed militants and other misguided youths who unleash mindless violence on "non indigenes" have always been called to order by the Government and the people of Lagos State. Indeed, the human-rights community has always kicked against discriminatory policies and ensured that all victims of human rights abuse are defended and protected regardless of their ethnic identity.
"As a senior lawyer, Oba Akiolu ought to have realized that the Electoral Act has not conferred powers on any traditional ruler or any other authority to sanction anyone for voting for a candidate of his or her choice in any election conducted in Nigeria. After all, before the just concluded presidential election the Oba adduced reasons why he could not endorse the presidential candidate of the APC, General Mohammadu Buhari (rtd.).
"He was not harassed or intimidated for exercising his freedom of choice. Since the Electoral Act, 2010 as amended has banned any form of hate campaign the Oba is advised to withdraw the threat credited to him and apologize publicly to the Igbo people without any delay.
FEMI FALANA, SAN