Soyinka Withdraws From Presidential Anti-Terror Rally, Billed To Hold In Lagos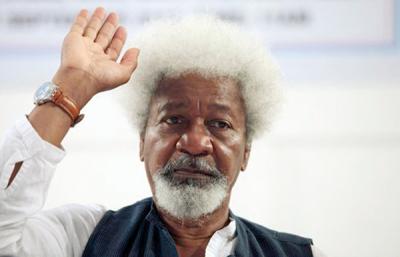 Nobel laureate and prolific writer, Wole Soyinka has pulled out of a rally in Lagos featuring President Goodluck Jonathan and planned by one of Nigeria's prominent activists, Joe Okei-Odumakin, who runs the non-governmental organization, Women Arise. The rally, which is scheduled to commence today by 9:30 a.m. has been tagged an anti-terror event.
However, in an interview, yesterday evening, Professor Soyinka said he decided to pull out of the rally because things did not seem as they initially appeared when he first agreed to join the rally.
In a related development, another high profile participant who has backed out of the race is Afrobeat musician, Seun Kuti. The musician said that he had initially agreed to join the "walk against terror" because he was told that the event was a "non-partisan" action against terrorism. Asked if he would still perform at the event tomorrow, Mr. Kuti, who is one of the sons of the late Afrobeat maestro Fela Anikulapo-Kuti, told SaharaReporters that he was not sure anymore if the rally would be interpreted as a political endorsement for President Jonathan.
Mr. Jonathan has reportedly arrived in Lagos to lead the rally, a Presidency source told our correspondent.
Described as "a non-partisan, citizen-based national rally against terror," the event is scheduled to hold at the cricket pitch of the Tafawa Balewa Square in Lagos.
A source close to Professor Soyinka stated that the Nobel laureate was already preparing his presentation at tomorrow's rally when word reached him that President Jonathan's associates were behind a disruptive protest rally held in Lagos earlier today and organized by the national coordinator of the Oodua Peoples Congress (OPC), Gani Adams. OPC members wielded guns, machetes and spears as they terrorized the city and its residents. Our reporters said the OPC thugs assaulted people, tore down APC campaign posters, and destroyed vehicles and other property.
The Nobel laureate declined to state whether his decision to pull out of tomorrow's event stemmed from today's violent action by the OPC, which paralyzed parts of Lagos.