'I'm Not Ready To Feed Jonathan In Prison' Says Nigerian First Lady, Dame Patience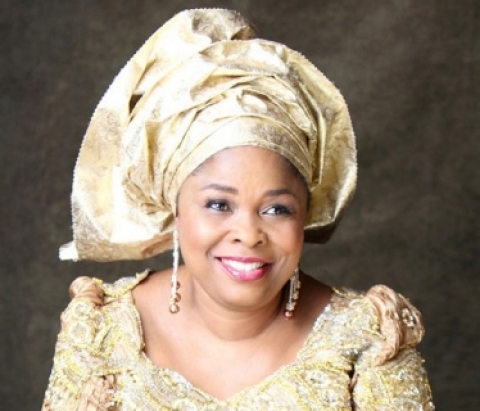 by Deji Abiodun 
Wife of the President, Mrs. Patience Jonathan, has said she is not ready to feed her husband, President Goodluck Jonathan, in prison.
The President's wife spoke in Ado Ekiti, on Monday, during the rally of the women's wing of the Peoples Democratic Party.
Making a reference to the All Progressives Congress, she asked, "What did they forget in Aso rock? If you vote PDP and Jonathan, it would be better for you. If you vote APC, you will go to prison. How can you jail somebody for 300 years? I'm not ready to carry food to my husband inside prison oh!"
According to Punch Newspaper, She openly admitted that the Office of the First Lady, which she occupies, is illegal.
She, however, said there was nothing wrong in a woman supporting her husband in office.
She said, "They said there is no Office of the First Lady. Already, we know that there is no Office of the First Lady but there is wife of the President.
"As (the) wife of the President, if you are good, people will love you. You will have a Non-Governmental Organisation through which you will touch people's lives. That is why I brought Women for Change Initiative."
While she was talking, women – both old and young – fought to have their share of the leftover of rice distributed by Ekiti State Governor, Ayodele Fayose, during the last Christmas festival, packaged in small bags.
The women were still struggling over the rice packaged in small bags when attention was diverted to another struggle for buckets presented by Senator Gbemi Saraki in commemoration of the October 16 inauguration of Fayose.
In the struggle, which almost resulted in a stampede, many of the women got injured.
Shoes, headgears, wigs and bags littered the floor while a woman was heard complaining to a friend that she lost her bangle.
Security men had a hectic time controlling the surging women who engaged in a brawl.
Mrs. Jonathan described APC as a poison, saying, "If you drink APC, you will die."
Accusing the party of having to change name several times, she said, "Since my father was born, they have been around changing from one name to another. Very soon they would answer Ebola. The name can't change you; it is only performance that can change you. If you like change it 100 times.
"Nigerian women shine your eyes, don't go for analogue, go for digital. PDP is digital, APC is analogue.
Fayose at the event took a swipe at former President Olusegun Obasanjo, saying his tacit support for the APC presidential candidate, Maj. Gen. Muhamadu Buhari (retd.), would get him nowhere.
"After Jonathan, the North can have their own eight years. Whether they like it or not, whether that our baba, you know him, whether he tore his card or not, whether he ate the card or not, Buhari is going nowhere," he declared.
"Goodluck is our own. He is coming back. I am carrying the madate of a people who believe in me. If they do elections here 20 times, I will win," he boasted.
Mrs. Jonathan said it was time for the women to pay back her husband for appointing several women into positions of authority.
"This is the time to say thank you so that he will do more. Those people when they were there, they said we didn't have brains. Jonathan came and lifted us from where we were lying helplessly."
She urged the women to collect their Permanent Voter Cards and vote massively for the president.
"PDP is not a party that tells lies. Whatever we promise to do, we do. We are not a propagandist party. Ekiti women, your mother is here and I will not tell you lies, but the truth.
"Nigerian women shine your eyes o! Vote with what you have seen, who you already know and who has performed. If anyone is telling you change, they are deceiving you.
"These were people that when they were there before Goodluck Jonathan, they did not count you women as anything. But today, PDP has wiped away our tears. Jonathan has wiped off our tears. He has fulfilled his promise of giving women 35 per cent participation. He gave 16 seats to women out of 42 slots in his cabinet. He is a performer."