"Jega Must Go" MASSOB Protests In Five South Eastern States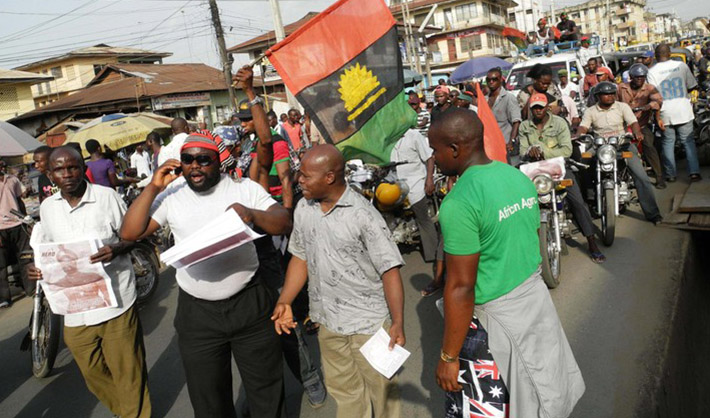 Estimated Reading Time: <1
Members of secessionist group, Movement for the Actualisation of Sovereign State of Biafra, (MASSOB) on Friday protested in the five South-East states to demand the removal of the Chairman of the Independent National Electoral Commission, Prof. Atahiru Jega.
In Enugu State, the placards-carrying MASSOB members, in their hundreds, marched through major streets, chanting "Jega must go!"
the Federal Government to remove Jega in order to prevent violence that might trail the general elections the INEC boss was allegedly planning to conduct in favour of the All Progressives Congress.
The group stressed that Jega was not capable of conducting free and fair polls.
Some of the protesters' placards read, "Jega must go," "With Jega, no election," "Prof. Attahiru Jega must go" and "Go Jega, says MASSOB."
The protests were held simultaneously in Abia, Anambra, Enugu, Ebonyi and Imo states.
Although the protest was peaceful in Enugu, the large number of MASSOB members disrupted vehicular movement on major roads.
Policemen monitored the demonstration but as of the time of filing this report, none of the MASSOB members had been arrested.
MASSOB had first called for Jega's sack at a news conference in Owerri last week.
At the news conference, MASSOB leader, Chief Ralph Uwazuruike, threatened to stop the conduct of the general elections in the South-East if Jega remains the head of the electoral body.
Uwazuruike, in a telephone interview on Friday, accused Jega of favouring the APC.
He said there would be bloodshed in the country if Jega was not removed for the polls.
The MASSOB leader said, "We are organising the protest against Jega because he is biased and cannot conduct a credible election for Nigerians.
"We know that he is supporting APC and if allowed to conduct the elections, he will definitely favour the party and when that happens, there will be crisis."
Also in Abia State, MASSOB called for Jega's sack.
The about 1,000 protesters assembled at a compound on the Bank Road Umuahia from where they marched through major streets chanting pro- Biafran songs .
They passed through Government House and visited some media houses in the city with placards bearing different inscriptions.
Addressing journalists later, the Leader of MASSOB in Abia Central Zone, Mrs. Comfort Ogbuokiri, alleged that Jega had connived with APC to rig the March 28 election in favour of the party's presidential candidate, Gen. Muhammadu Buhari (retd).
Another MASSOB official in the zone, Chief Peter Onyema, said, "A new person with clean records should be appointed to head INEC if the outcome of the forthcoming elections should be acceptable by all parties in the country."
Onyema said the protest was in compliance with the directive by Uwazuruike.
He, however, called on Igbo living outside the South-East to return home before the elections to avoid being victims of post-election violence.