Another Diplomatic Row? Chadian Soldiers 'Withdraw' From Nigeria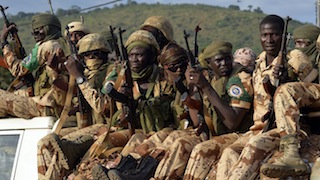 Estimated Reading Time: <1
by Musa Abdullahi
Reuters News Agency is reporting that a large number of Chadian soldiers in the frontline of fights against Boko Haram have withdrawn from Nigeria to Cameroon.
NewsWireGR recalls that Idriss Deby, Chadian President had claimed that he singlehandedly called war on the extremist group, boko haram, and as slammed Nigerian President saying nothing would have been done if the war was left to him as Chad was never authorised the decision.
The statement that certainly did not go down well with the Nigerian authorities, as the military led by Major General, Chris Olukolade quickly issued a counter statements rebuffing and cautioning members of the Multinational Joint Task Force of careless statements.
Chadian soldiers, who asked not to be identified, said troops operating in Nigeria had pulled back from their forward base of Gamboru to Fotokol, a town on the Cameroon side of the border.
"We don't know the reason for the withdrawal. We just received the orders," one of them said, adding that the force was now heading south to the border town of Banki.
Banki lies on the main road from Cameroon to the Nigerian town of Bama, the second-biggest town in Borno state, which is being held by Boko Haram. Since the multinational attacks took off in Nigeria in February, the Chadian force is credited to have desecrated the ranks of the militant group.
A Cameroonian military source confirmed to Reuters that the Chadian troops had crossed back into Cameroon and were headed south but gave no further details.
The reason for their withdrawal from Nigeria has not been confirmed, but it is believed that Nigeria and Chad have strained relationships.
Chadian troops last week pushed the furthest they have gone into Nigeria when they freed Dikwa, a town east of Maiduguri, with the Chadian president, Idriss Deby claiming that he knows the whereabouts of Abubakar Shekau. Since then, Nigeria asked Chadian troops to leave and deployed its own troops to the town, Chadian officers said.
Mistrust and rivalries have hamstrung coordination between the regional armies as it was reported that Nigeria stopped Chadian troops from overrunning Boko Haram camp.
The Chadian troops have recorded major successes alongside other partners in the fight against Boko Haram in Nigeria's North eastern states.