Unguarded Pets: Alsatian Dogs, Owner Arrested After Attack On Nine-Year Old In Ogun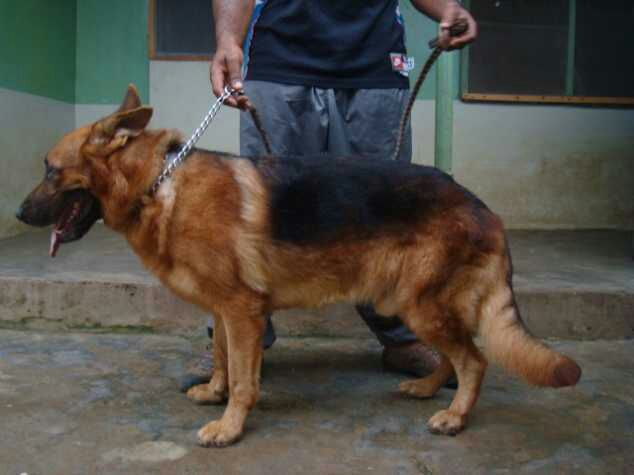 Two Alsatian dogs and their owner, Okolo Chukwuma, have been arrested by the police in Ogun State after a ferocious attack on a nine-year-old boy in Greenland Estate in Ibafo area of the state.
The boy, Moyinoluwa Banwo, survived the February 24, 2015 attack with multiple injuries all over his body. Chukwuma along with the canines are currently at the Department of Criminal Investigations, Eleweran, Abeokuta.
The boy's father, Mr. Femi Banwo, who lives in the same estate but three streets away from Chukwuma, said that his son had left the house around 5pm after school on that day and went to his friend's house on Michael Shoyinka Avenue in Greenland Estate, just two houses away from the dog owner's house.
"My son was helping his friend with an assignment at the front of the boy's house when Chukwuma opened the gate of his own compound and let the dogs out.
"I think my son's friend must have seen the dogs first and ran away but my son did not. The dogs promptly set upon him and bit him all over his body until their owner restrained them."
Banwo, who said he was at work in Apapa at the time of the attack, said Chukwuma later took the boy to a hospital in Ikeja after he was given a first-aid treatment in a clinic at Ibafo.
He told our correspondent, "He took my boy to the hospital at Ikeja and said he paid N13,000 but when I went back there, doctors said he only paid N4,000.
"Imagine him telling me that my son would be fine because he had given his dogs anti-rabies injection before. Is that a licence to leave dangerous dogs on the loose?"
The victim's mother was away from the house during the attack but was only informed on the phone when the dog owner took the boy to the clinic.
Moyinoluwa has been on anti-rabies medication since the attack, his father said.
The spokesperson of the Ogun State Police Command, Mr. Muyiwa Adejobi, was unavailable for comment as his phone lines were busy on Friday.