Nigeria Does Not Deserve A 73-Year Old President – Namadi Sambo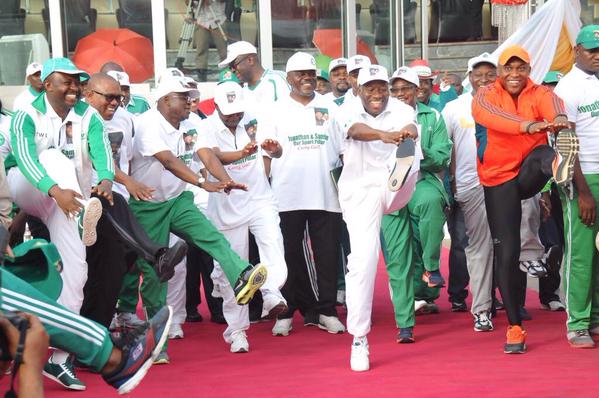 Estimated Reading Time: <1
by Musa Abdullahi
Nigeria's Vice President, Namadi Sambo has urged Nigerians not to vote the presidential candidate of the All Progressives Congress, Muhammadu Buhari, in the March 28 election, saying the country does not deserve a leader who is 73.
PREMIUM TIMES reported that the Vice President was speaking during the solidarity rally by Nigerian sportsmen and women for President Goodluck Jonathan, Saturday in Abuja where Namadi said,"Our President is a young President,"
He continued, "And I don't think this country deserves a 73-year old President."
He therefore asked the sportsmen and women to allow Mr. Jonathan to "carry go" in the March 28 presidential election.
"Come 28 March, make sure you have your PVC cards …and make sure Mr. President carry go," he said.
Speaking on behalf of the sportsmen and women, a former captain of the Super Eagles, Joseph Yobo, described Mr. Jonathan as an uncommon leader who deserves the support of all Nigerians.
He said it would be difficult to find another uncommon President like him when his tenure expires.
"We cannot allow him to go until his good work is done in 2019," Mr. Yobo said.
The rally, which is part of President Jonathan's reelection campaign, was attended by sports stars such as Nwankwo Kanu, Austin Eguavoen, Mary Onyali, Peter Rufai among others.