Former Nigerian Justice, Muhammadu Uwais Son Joins ISIS, Father Declines Comment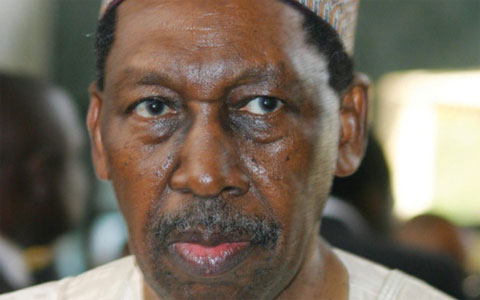 Estimated Reading Time: <1
by Musa Abdullahi
A son of a retired Supreme Court Justice and former Chief Justice of Nigeria (CJN), Justice Muhammadu Lawal Uwais (GCON), 79, has allegedly joined the notorious Islamic terrorist group fighting in Syria and Iraq, the Islamic State of Iraq and Syria (ISIS), according to sources with knowledge of the development.
The sources familiar with the intelligence report presently being reviewed by intelligence chiefs told THEWILL that the man (name withheld) left Nigeria a few days back for Syria, with his two wives and children to fight alongside ISIS, which presently controls large territories in Iraq, Syria and Libya.
The Former Chief Justice of Nigeria, Mohammed Uwais, Wenesday, declined to comment on the report by a foreign news medium that his son had joined the terrorist group, Justice Uwais declines comment on son's ISIS membership .
In a telephone conversation with Vanguard in Abuja, the respected jurists, who was Nigeria's Chief Justice between 1995 and 2006, neither confirmed nor denied the report published by a United States of America-based newspaper, The Will on March 4, 2015.
Reminded that the report had already gone viral, Uwais, who also spearheaded Nigeria's electoral reforms, said that he had no comment on the matter.
"I don't want to comment on hearsay," the former CJN said.
The San Francisco-based news medium had reported that the son of the retired judge, whose name it did not disclose, had joined ISIS after moving from Nigeria with his two of his wives and children in order to help fight alongside ISIS, which presently controls large territories in Iraq, Syria and Libya.
The newspaper said that the intelligence report came from Saudi Arabia, one of the over 50 countries alongside the United Nations that has designated ISIS as a terrorist organization.
If proved to be true, this would be the second time a member of a Nigerian elitist family would be linked to a foreign terrorist group.
The first was the notorious underwear bomber, Umar Farouk Abdulmutallab, a member of al-Qaeda, who is presently serving a life sentence without parole in the United States, who is the youngest son of Katsina born Alhaji Umaru Mutallab, a very wealthy Nigerian banker and businessman, who had also served as a federal Minister in the 70s.
Sources said that Justice Uwais had been told about the development.
The Nigerian military and its West African allies are presently preoccupied with defeating the Boko Haram, a Nigerian terrorist group responsible for thousands of brutal killings and deadly bombings in northern Nigeria and border towns in Cameroun and Chad.
Nigerian Government had alerted last week that ISIS Now Recruiting Young Nigerians… Justice Uwais son is said to have moved to join the group alongside his wife and three children …