Doubting Borno Elders To Defence HQ "We Want To Tour Liberated Towns"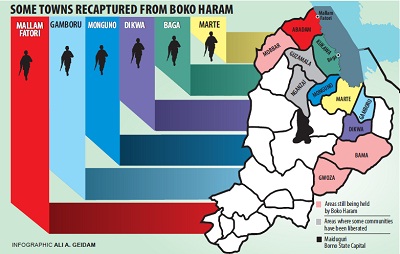 Estimated Reading Time: <1
by Musa Abdullahi & Daily Trust
Borno Elders Forum yesterday advised the Defence Headquarters to organise a special tour for community leaders and journalists to visit the liberated communities, to be sure of the capture of the towns as claimed.
"It will also be a good credit to the Nigerian authorities if opinion leaders and journalists would be taken to Monguno and Baga as well as the communities around them that are said to be free.
"When these leaders return from the visits, they would brief their people and this will give psychological relief to the thousands of IDPs that are now living in Maiduguri who are oblivion of what the future holds for them or whether they would ever go back to their ancestral homes," Spokesman of the Forum Dr. Bulama Mali Gubio said.
The Forum though impressed by the way troops were recording successes against the insurgents, insisted that visiting the formally captured territories will do the people good.
He equally gave credit to troops from Chad, Cameroon and Niger, whom he said had proved to be friends in need.
"It is evidently clear that the tide has changed for the better, especially in the last two weeks. The regional forces are doing well.
"However, we wish we would be taken to these communities to see things for ourselves.
He urged the committee set up by Federal Government under the leadership of retired General T.Y Danjuma to expedite action that would enable the displaced persons return to their homes.
"There is doubt about the fact the next phase of the counter insurgency approach will be serious rehabilitation of the displaced and reconstructing of ruined communities," he said.
He added that this should be taken seriously by those vested with the responsibility.
Gubio berated former minister of communication Edwin Clark over his remark recently that one day an Almajiri would become the President of Nigeria.
Clark had said President Goodluck transformed the Tsangaya schools in Nigeria, a feat he added all the northern governors could not achieve.
"The statement by Edwin Clark was in bad taste and unless he wants to rewrite history, the Almajiris have ruled this country at different times.
"To set the record straight, Sir Abubakar Tafawa Balewa, The Sardauna of Sokoto, Sir Ahmadu Bello and even Alhaji Shehu Shagari have all attended the Almajiri School," he said.