Obasanjo Says President Jonathan Is Afraid Of Being Jailed By Buhari If He Loses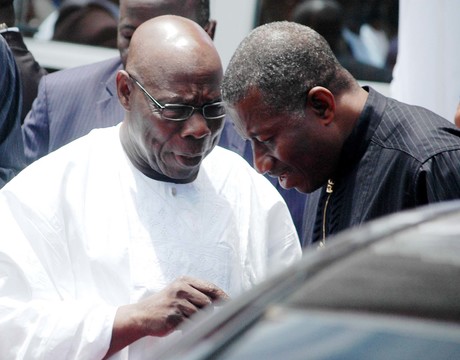 Estimated Reading Time: <1
by Deji Abiodun
Former President has unleashed another attacks on President Goodluck Jonathan, acussing him of playing politics of do-or-die like President of Côte d'Ivoire, Laurent Gbagbo . He said Jonathan is afraid of being jailed by Buhari if he loses.
Obasanjo said this on Saturday at his hiltop mansion in Abeokuta while speaking with newsmen shortly after he came back to the country from his overseas trips.
Obasanjo while reacting to the postponement of the election said, the postponement of the election was a grand plan by Jonathan and his cronies to perpetuate office till the situation becomes clear that the election would favour him.
He acussed Jonathan of playing a brand of for refusal to proceed with the elections as earlier scheduled to hold, thereby blaming the security chiefs for such a decision.
"it turned out to be a forced decision on the INEC because it was alleged that the Security Chiefs were unable to provide security and as a result the Chairman of INEC had to postpone, in accordance with the dictates of the so called Security Chiefs.
"I thought for me, that was bad precedent for democracy in Nigeria, it meant it doesn't matter what preparation or lack of preparation any electoral body could make in Nigeria, the final decision weather election will take place on the day scheduled for it lies in the domains of the security, it is a sad day for democracy in Nigeria.
"And I will say this, we must all feel concern before democracy is killed. The observable and what would appear to be happening is that the president has a grand plan, a grand plan to ensure that by hook or by crook, he wins the election or if it all fails, they scuttles it and create chaos, confusion and unpleasantness in the whole country.
"Because it is the duty and function and responsibility of the security officers to provide security, the President is the Chief Security of the country and he is the Commander in Chief and if security is required anywhere anytime, it is his duty to provide it, failure to provide it is deriliction of duty, pure and simple.
"Either the President following his own grand plan or his aides and associates are working a script, they are playing a script which must not got his endorsement if not initiated from him.
"What again it looks to me is that the President is trying to playing Gbagbo, Gbagbo was the former President of Cote d'Ivoire and Gbagbo made sure he postponed the election in his country until he was sure he would win and then allowed the election to take place, he got an inconclusive election in the first ballot and I believe this is the sort of thing Nigeria may fall into if I am right in what I observed as the grand plan and then in the run-off, Gbgbo lost with 8% behind Ouattara and then refused to hand over. All reasonable persuasion and pleading was rebuffed by him and he unleashed horror in that country until nemesis caught up with him.
"I believe that we may be seeing the repeat of Gbabgo or what I called Gbagbo saga here in Nigeria, I hope not .