Former President Obasanjo In London Denies Endorsing Muhammadu Buhari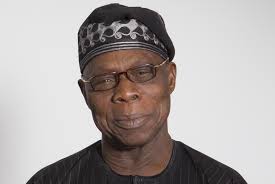 Estimated Reading Time: <1
by Abang Mercy
Nigeria's Former president, Olusegun Obasanjo has denied endorsing the All Progressives Congress Presidential Candidate, General Muhmmadu Buhari ahead of the 2015 election in Nigeria.
if you missed the story, read here, Obasanjo in Nairobi had told the Financial Times, "The circumstances [Buhari] will be working under if he wins the election are different from the one he worked under before, where he was both the executive and the legislature — he knows that. He's smart enough. He's educated enough. He's experienced enough. Why shouldn't I support him?".
In another interview with eNCA, when Obasanjo was asked if he's supporting Buhari's candidacy, he said, "I didn't go on record, its Nigerians. Nigerians call me OBJ for short, that's how they call Obasanjo and somebody decided to turn ABJ, so He turned OBJ to ABJ and when he was asked what does ABJ mean, he said, ANYBODY BUT JONATHAN. So it was not from me, it was from people who were genius enough to use the short form of my name, as I am being popularly called and make something out of it."
Speaking to Channels Television Correspondent, Doris Okenwa, yesterday in London, the Peoples Democratic Party Chiaftain said, " I won't go into argument about that, I didn't endorse him as such [referring to Buhari]"
"But what i said, consistently that i will determine based on the track record of those candidates who are contesting and who asked me for support.
"And when i do that, i will support the candidate i believe has the best track record" Obasanjo concluded.
Obasanjo who has been very critical of the Goodlcuk Jonathan's led government, said he is still making assesment of the two candidates and will make his position known after conviction on who between Buhari and Jonathan will perfom better.
He said he will make his statements known in the coming days. Meawnhile, General Buhari in an interview  with CNN's Christiane Amanpour last night had welcomed the endorsement of the former President who is still a member of Nigeria's ruling party where President Jonathan is the Presidential candidate.
Welcoming the endorsement of President Obasanjo, Buhari said: "Well it will certainly bring more supporters to us and more confidence for those who were sitting on the fence because General Obasanjo is highly respected and as far as the nation is concerned, there is no issue that can be deliberated upon without people seeking his opinion."