Jonathan Says No Plan To Sack Jega & The Chibok Girls Will Be Rescued #GEJMediaChat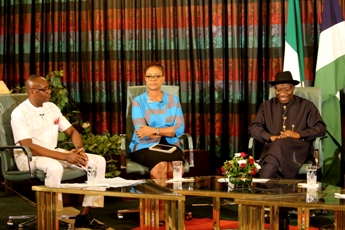 Estimated Reading Time: <1
by Dia Zamani
President Goodluck Jonathan says he has not told anybody that he will remove the Chairman of the Independent National Electoral Commission (INEC) Prof Attahiru Jega.
Jonathan said this in Abuja last night during the presidential media chat.
Asked whether he has confidence in Jega despite the accusations against him by the People's Democratic Party (PDP), Jonathan said if he feels Jega is not good, for obvious reasons, he could use his constitutional power to remove him.
"If you ask Jega, he would tell you. I appointed all the commissioners and resident electoral commissioners in INEC. They are my appointees. So, if I feel that Jega is not good enough for obvious reasons, then I can by that provision of the constitution, that gives the person who appointed him the power, to remove him. But I have not told anybody that I am going to remove Jega".
The president said some people were using the opportunity of the election rescheduling to create confusion and misinform Nigerians.
"One thing about politics or leadership generally is that when you're a leader, you've your members who support you, but what they do or say…maybe somebody has been making statements to advance your cause, the assumption is that the person is close to you and he is your fan. There are too many messages that go out and sometimes I call people.
More than 80 percent of people sponsoring these messages I don't even know. So, whatever that person says is different from Jonathan.
On the fate of the over 200 Chibok schoolgirls abducted by the Boko Haram sect last April, the president said there were renewed efforts to rescue them.
He said some people were playing politics with the case of the schoolgirls' abduction instead of supporting his administration's efforts towards freeing the captives.
"I believe now that we are working with Chad, working with Cameroon. I believe in the next few weeks, the story of the chibok girls will change. It's going to get better. I believe we should be able to rescue some of them.
"But I don't want to be quoted, I don't want you to say the president said that in two weeks' time or in four weeks' time. I cannot say that because the disappearance of those girls has taken quite some time. But we've mapped out strategies, we're working with our neighbours and we'll comb all the areas. So, just give us some time."
Watch The Presidential Media Chat February 2015