Olusegun Obasanjo Publicly Endorses Muhammadu Buhari For 2015 Presidency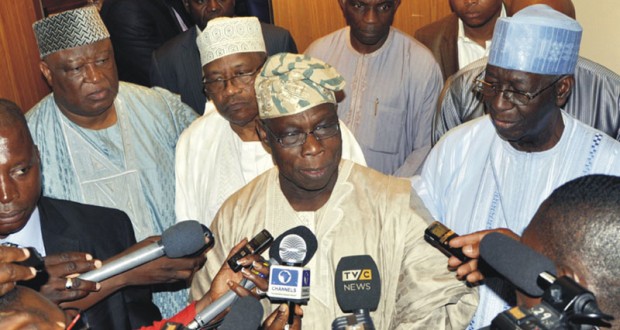 Estimated Reading Time: <1
Nigeria's former president, Olusegun Obasanjo, has publicly endorsed the APC presidential candidate Muhammadu Buhari. The former president was in Nairobi to launch his 1,500-page autobiography, "My Watch", a book that has been banned in Nigeria following libel hearings brought by Mr. Buruji Kashamu. Obasanjo launched the book in Nairobi on Monday, 9th February 2015.
Speaking to the Financial Times, Obasanjo said, "The circumstances [Buhari] will be working under if he wins the election are different from the one he worked under before, where he was both the executive and the legislature — he knows that. He's smart enough. He's educated enough. He's experienced enough. Why shouldn't I support him?"
On the crisis the Nigerian Army is currently facing, Obasanjo added, "It's a question of leadership — political and military. I think you need to ask [Mr Jonathan] how has he let [the army] go to this extent?.?.?.?Many things went wrong: recruitment went wrong; training went wrong; morale went down; motivation not there; corruption was deeply ingrained; welfare was bad."
In another interview with eNCA, when Obasanjo was asked if he's supporting Buhari's candidacy, he said, "I didn't go on record, its Nigerians. Nigerians call me OBJ for short, that's how they call Obasanjo and somebody decided to turn ABJ, so He turned OBJ to ABJ and when he was asked what does ABJ mean, he said, ANYBODY BUT JONATHAN. So it was not from me, it was from people who were genius enough to use the short form of my name, as I am being popularly called and make something out of it.
"As I said when I get back home at the end of this week, I will look at the situation. Well somebody said to me that even Buhari had an interview on Aljazeera yesterday, I didn't watch it. This is some of the things I will look at. But President Jonathan must have in mind what he wants to achieve and I do hope whatever he has in mind he has the interest of Nigeria at heart and in mind, because that's very important.
"I will still be looking at how things go, especially now that the election is 7weeks away. We will be waiting. Well, I think what happens in the next 7weeks will tell that story better, for four years or so now, we know what has been achieved and what has not been achieved but if there will be something different in the next 7 weeks, we will see and I don't want to pre judge the issue but let's wait and see, time goes on. My background is the military, it must be that he knows and of course he is in a position to know what many of us may not know."