Controversial AIG Joseph Mbu Refuses To Pay Toll At Lekki Toll Gate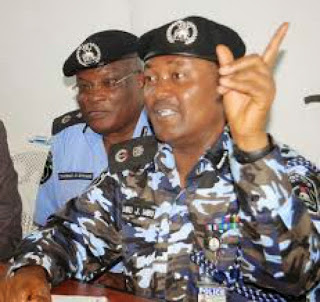 Estimated Reading Time: <1
Assistant Inspector General of Police, with the Zone 2 Command in Lagos,  Mbu Joseph Mbu, has begun his reign of 'fire for fire', he had to promised, in Lagos. The AIG and his convoy had on Friday, refused to pay the customary toll at the Lekki toll gate, and instead the Police Chief withdrew all the police details at the LCC.
Mbu's convoy, consisting of six cars and an armoured personnel carrier, sought to transit through the Ikoyi-Lekki toll plaza on Lane 8.

On reaching the toll point, some of the police orderlies escorting the convoy allegedly ran up and informed the LCC official on duty and the mobile policemen standing by that the AIG was in the convoy.

The LCC official was said to have retorted: "Who is the AIG? He should follow procedure and pay the toll."

Mbu, who was said to have overheard the remark, felt insulted by the effrontery of the LCC toll plaza staff. To make matters worse, the five mobile policemen attached to the plaza were also said to have engaged the orderlies escorting the convoy in an altercation. Their conduct was said to have enraged the AIG, who then ordered that they be arrested along with the LCC staff and detained at the Maroko police station. Mbu also ordered the withdrawal of all policemen attached to LCC.

As a result, the LCC management was said to have reached out to the Oba of Lagos, Oba Rilwan Akiolu 1, who allegedly facilitated the release of all the detainees. The monarch is a retired Assistant Inspector General, AIG, of police.

Mbu was, however, said to have refused to restore the security details attached to the company despite pleas from the Oba. Saturday Sun gathered that it took the intervention of a former IGP, Musiliu Smith to convince Mbu to restore the company's security details.

Meanwhile, calm has gradually returned to Lekki toll gate, after Friday's fracas.
Lagos residents may have to brace up for more surprises from the controversial Assistant Inspector General (AIG) of police, Mbu Joseph Mbu who heads the zone 2 command headquarters of the force. He has threatened it will be fire for fire in the coming elections.

"Nobody, no matter the position, will be above the law, I will shame critics as we are not afraid of any person, I repeat, anybody who attacks my men violently, we will respond violently as we are battle ready", Mbu thundered at a lecture he held for senior police officers at the Lagos police command headquarters, Ikeja on Wednesday.

AIG Mbu, came into limelight as a Commissioner of police in Rivers State with his frequent clashes with the state governor, Hon. Rotimi Chibuike Amaechi; and was promoted to his present dank, after that debacle in Rivers. He was posted to Lagos, few weeks ago.