#ChoiceForLife Announces Online Contest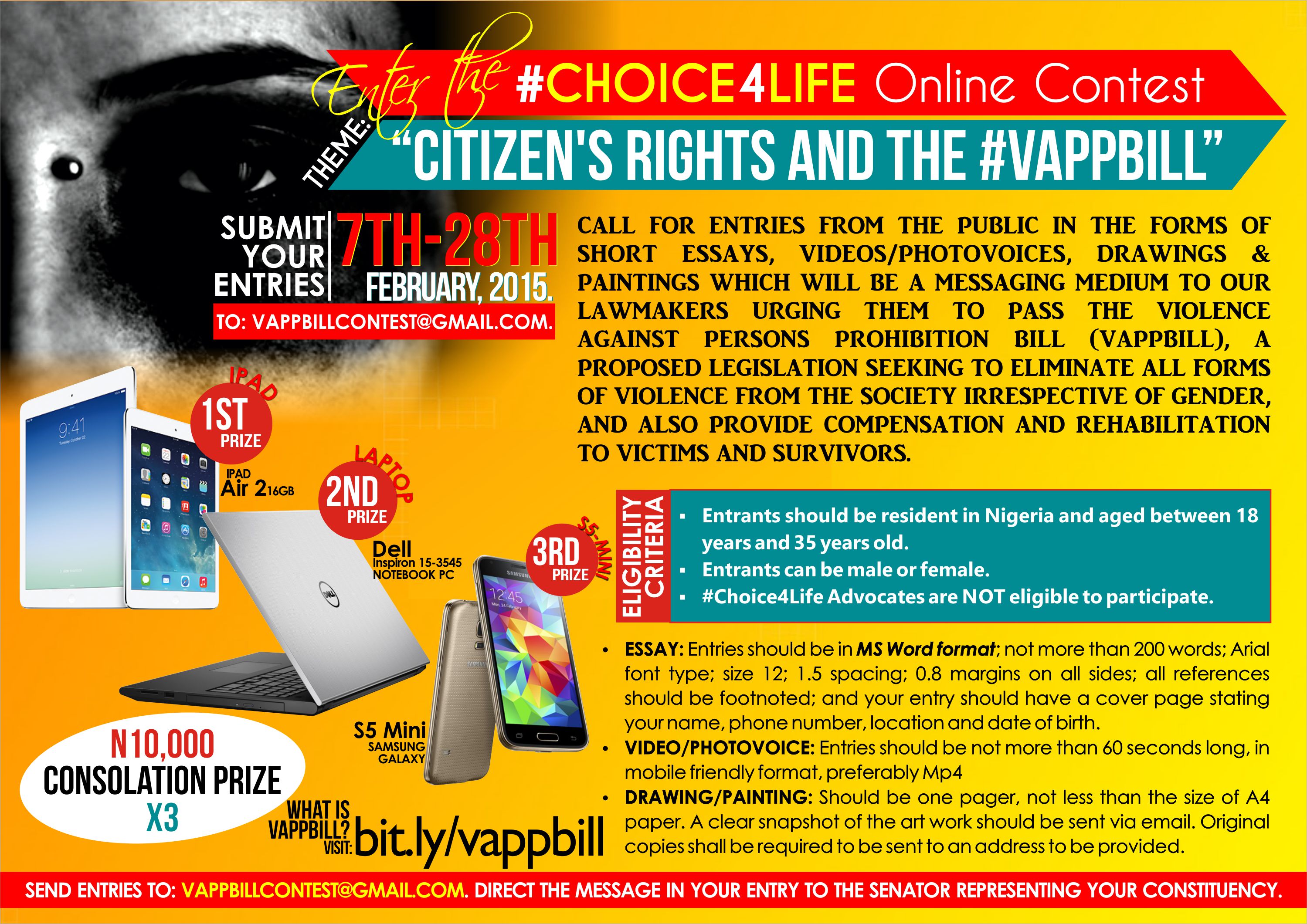 Estimated Reading Time: <1
#Choice4Life Advocates – a group of 54 young Nigerians from diverse backgrounds that promote Women's Sexual and Reproductive Health and Rights, have opened an online contest today. The contest which is expected to run between today, February 7th and February 28th, 2015, accepts entries from the public in the forms of short essays, videos and drawings/paintings, which in a way, will be a messaging medium to the Senators urging them to pass the Violence Against Persons Prohibition Bill (VAPPbill), a proposed legislation which seeks to eliminate all forms of violence irrespective of gender from the society, and also provides compensation and rehabilitation to victims and survivors.
Themed "Citizen's Rights and the #VAPPBill", the contest will award prizes to top three winners and consolation prizes to 3 others.
The prizes to be won are;
1st Prize – iPad Air
2nd Prize – Dell Notebook PC
3rd Prize – Samsung S5 mini handheld
Consolation prize – N10, 000 each for 3 persons
Entries are accepted via email: vappbillcontest@gmail.com.
Eligibility Criteria:
Entrants should be resident in Nigeria and aged between 18 years and 35 years old.
Entrants can be male or female.
#Choice4Life Advocates or their relatives are NOT eligible to participate.
Essay entries should be in MS Word format; not more than 200 words; Arial font type; size 12; 1.5 spacing; 0.8 margins on all sides; all references should be footnoted; and your entry should have a cover page stating your name, phone number, location and date of birth.
–          Video entries should be not more than 60 seconds long, in mobile friendly format, preferably MP4
– Drawings/Paintings – should be one pager, not less than the size of A4 paper. A clear snapshot of the art work should be sent via email. Original copies shall be required to be sebt to an address to be provided.
NB: All entries shall be directed to the senator representing the entrant at the National Assembly.