EXCLUSIVE: Nigeria's Elections To Be Postponed – [Read Jega's Presentation To Council Of State Meeting]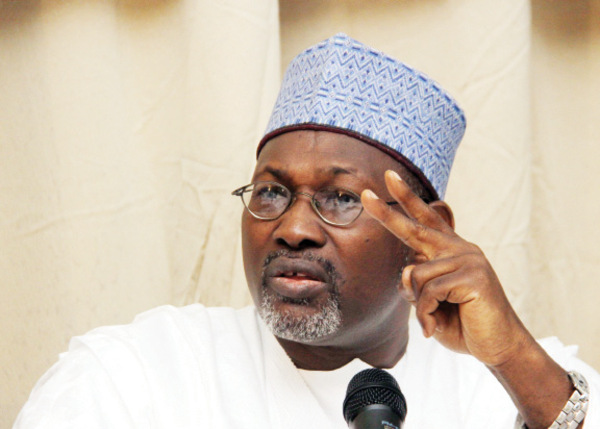 Estimated Reading Time: <1
INEC Chairman, Prof. Attahiru Jega has admitted that the Independent National Electoral Commission requires sometime to perfect their plans to conduct a successful 2015 elections. In his briefing to the Council of States thursday in Abuja titled "Preparations for the 2015 General Elections Progress Report" he talked on several contentious issues including PVC Production & Distribution, Card Reader technology, Sensitive and Non Sensitive electoral Materials, Voter Awareness and Security concerns in the North East.
In his conclusion, Jega remarked that the commission is yet to perfect its level of preparedness but believes that it is ready as he frankly suggested that the elections may be postponed by 6 Weeks given the Security report in 4 North East states.
Prof. Jega's briefing to the Council of State meeting EXCLUSIVELY obtained as seen with the highlights below:
Publishing of the Register of Voters for the Elections
Indeed, the printing of the PDF hard copies of the Register of voters to be used for the elections in the pollin gun its and voting points has commenced in virtually all the states. Initial Challenges caused by the late delivery of new printers which delayed commencement in some states has been since overcome.
Production and Distribution of PVCs
There are PVCs, which have been stolen before they were collected by their owners, or which were damaged, or which were for people who have done transfers, and which the Commission has decided to reproduce.
A total of 45,098,876 or 65.81% of the total have been collected by voters (Attachement 2), thus about 34% of the PVCs are yet to be collected by the voters.
Second what rate or percentage of collection is acceptable for an election to take place? (51%; 75%; 90+%?) In this case whatever percentage is agreed upon, it would imply a date for the election could not be fixed until it is attained.
In any case the commission will appreciate advice on this matter.
Card Readers
The commission ordered for the production and delivery of 182,000 customized CRs, sufficient for 150, 829 voting points (VPs), plus redundancies. Out of this number, 154,500 have since been delivered and distributed to the states and FCT. The remaining balance of 27,500 has been produced and shipped and is expected on Wednesday February 4th (* The Whistle notes that Jega briefed Council on the 5th and the materials were yet to arrive).
In the highly unlikely event that a CR fails, we have enough spares to deploy before the end of accreditation at 1PM and adjust the time to gain lost time.
Non-Sensitive Materials
There were delays in respect of sending the materials to Borno and Yobe states, because we have to keep them longer in the Zonal store until adequate security arrangements have been made to transport them to the states. A couple of months ago, INEC's State office in Yobe was damaged by insurgents and 11 Hilux vehicles carted away.
Although timelines have been missed in respect of the supply/delivery of some of the non sensitive materials to the states, in general.
Recruitment and Training of Ad hoc (Temporary) election Personnel.
Given that larger number of Ad hoc Staff will be used in 2015 compared with 2011, the training his slightly more challenging.
With the benefit of hindsight, and given the new technology of PVC and CR, we could do with more days of especially hands-on training for POs and APOs. Regrettably we can't do that due to funding constraints. Also a more decentralized, LGA level training with smaller numbers on classroom would have been ideal.
Public Enlightenment, Sensitization and Voter Education
In a country the size and complexity of Nigeria, public enlightenment, sensitization and voter education are circumscribed by enormous challenges.
However, a lot more still needs to be done by all stakeholders to intensify voter education as we get close to the dates of the elections.
Conclusion
For things under the commissions control, our accomplishments are to such degree that we can conduct the election, in spite of the identifiable challenges.
Consequently, although our state of preparedness may not be 100% or perfect, and although a bit more time of additional preparation would enable us improve and perfect the current level of preparedness, we believed that we're ready for the elections as planned.
No matter the extent of our readiness if there are serious security concerns the successful conduct of free, fair, credible and peaceful elections would be greatly jeopardized.
Yesterday, for example, we received a letter from the office of the National Security Adviser (NSA), informing us of recent developments in 4 of the North East States, stating that safety and security cannot be guaranteed during the proposed election period, adding reasons adducing reasons why this is so, and strongly advising that INEC considers rescheduling the elections by at least 6 weeks, within the provisions of the electoral legal framework, and within which time span it is hoped to restore sufficient normalcy for elections to hold. This is a new development that INEC cannot certainly ignore or take lightly.