2,500 Chadian Troops In Nigerian Communities In Pursuit Of Boko Haram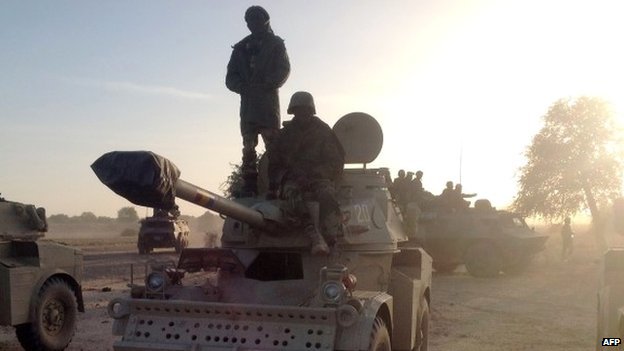 Estimated Reading Time: <1
Chadian troops have entered the northern Nigerian town of Gambaru on the border with Cameroon that has been under the control of Nigeria's Boko Haram insurgents for several months, Chadian military sources said on Tuesday.
Fighting focused on the north-eastern town of Gamboru, Nigerian security spokesman Mike Omeri said. Chad's deepening involvement shows how the conflict with Boko Haram is taking a regional dimension.
"Our troops entered Nigeria this morning. The combat is ongoing," one of the sources at Chad's army headquarters told Reuters News Agency.
Chad has deployed some 2,500 troops as part of a regional effort to take on the militant group that has waged a bloody insurgency to create an Islamist emirate in northern Nigeria.
Boko Haram leader Abubakar Shekau has threatened to create a caliphate, incorporating parts of Nigeria, Niger, Chad and Cameroon.
The African Union has responded by backing plans to establish a 7,500-strong regional force to fight Boko Haram.