Fake B'Haram Members: DSS Parades Ex-aide To Borno Governor, 6 Other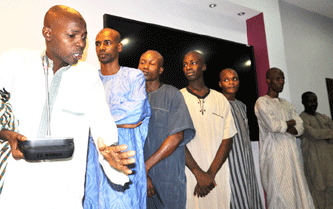 The Department of State Services, DSS, yesterday, paraded a former aide to Governor Kassim Shetitma of Borno State, Junaid Idrissa Khadi, and other six fake Boko Haram members, who served as accomplice to the self acclaimed Australian negotiator for Boko Haram, Mr. Steven Davis.
At the service's headquarters in Abuja, spokesperson of the DSS, Marilyn Ogar who paraded the suspects said they were arrested following investigation into allegation made by Steven Davis that former Governor of Borno State, AIi Modu Sheriff and former Chief of Army Staff, COAS, Lieutenant General Azubuike Ihejirika, respectively were among chief sponsors of the Boko Hararn sect.
The suspected fake Boko Haram members are Junaid Idrissa khadi, Abubakar Yusuf (a.k.a Baba Sani), Saleh Alhaji Ibrahim (a.k.a Liman Ibrahim), Abdullahi Saleh (a.k.a Babadale), Nurudeen Ibrahim; Mubarak Adamu (a.k.a. Molo), and Mustapha Maidugu (a.k.a. Musty/Small).
Ogar said Junaid Idrissa Khadi, a 45-year-old Kanuri man from Borno State, was an aide to Borno State Governor, Kassim Shettima. He confessed to knowning Davis since 2006; that he introduced one Aisha Wakil to Davis as a credible link to top members of the Boko Haram sect.
A transcript of what Ogar said, "That he and one General Ashafa went with Davis on a journey to a remote part of Marte LGA, Borno State, on a false mission to rescue the abducted Chibok schoolgirls.
"That he deliberately conspired to blackmail and implicate Ali Modu Sheriff (Sen.), former Governor of Borno State and one Mala Othman, former state chairman of the All Progressives Congress, APC, as sponsors of the Boko Hararn sect.
"This he did by mounting pressure on the fake Boko Haram Commanders, particularly Abubakar Yusuf (a.k.a Baba Sani) to affirm that Sheriff was indeed a sponsor. A claim that would give weight to their own seam and compel the Federal Government to negotiate with the fraudulent group. However, when the attempt failed, he sold the idea directly to Davis;
"That Davis singlehandedly conjured the indictment on Ihejirika based on allegations that the military under the former COAS was responsible for several failed attempts by Davis to make contact with the Presidency;
"He denied ever discussing with Davis that Ihejirika was a Boko Haram sponsor. He stressed that at no time during their interactions were such allegations made against Ihejirika and wondered why this should arise;
"That he organised several meetings between the purported Boko Haram Commanders and Davis in Abuja and was privy to a YouTube video, an interview on Voice of America (VOA) and he (Khadi) also used Davis camera to capture snapshots of Davis in a group photograph with some fake commanders of the sect; Abubakar Yusuf (a.k.a Baba Sani)."
"recall that on August 29, 2014, one Steven Davis, an Australian self-styled negotiator for the Boko Haram sect had alleged that AIi Modu Sheriff (Sen) and Azubuike Ihejirika, former Governor of Borno State and former Chief of Army Staff (COAS) respectively were among chief sponsors of the Boko Hararn sect.
"Based on the allegation, this service initiated an in-depth investigation into the matter. Consequently, seven associates of Davis were arrested and it has been established that they were part of a well orchestrated plan to spread falsehood, undermine and discredit efforts of government to end terrorism.
"It is necessary to state here that Davis and his cohorts are among several other local and international groups who are out to make merchandize of the Boko Hararn insurgency through concocted and fabricated stories.
"These subversive campaigns are also aimed at permeating and shaping political discourse as well as challenge the integrity of our national security and stir is content among Nigerians and our esteemed allies in the war against terror.