Army Colonel, 10 Others Arrested For Sabotage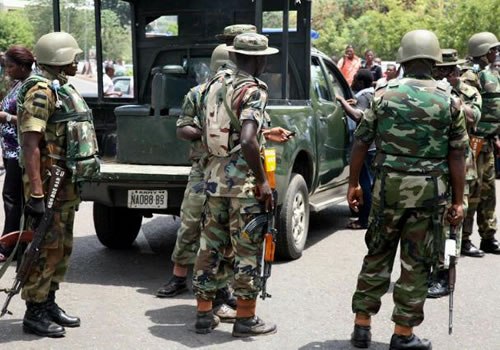 by Oluwatsosin Fatoyinbo
Reports have emerged that an Army colonel and 10 other officers who set military equipments and hardware on fire to help the Islamic sect Boko Haram in the bid to regain some of the towns in Adamawa have been arrested.
The colonel was said to be a muslim in charge of  a team of three Armoured Personnel Carriers, APC's, with the capability to fire up to a range of 1.5kilometres or even more set the Armoured Personnel Carriers on fire instead of pursuing the insurgents.
A to military source described this an ''embarrassing incident occurred,''
It  was that the Special Forces of the Nigerian Army who commenced the operation to rout Boko Haram terrorists from Bazza, Michika, Gulak and Madagali from Vimtim,hadinflicted  serious damage on  them.
It was said that between Gulak and Madagali, the Colonel who had all along been prided with air surveillance reports, was again informed that Boko Haram terrorists were approaching his team in six Toyota Hilux Pick Up vans from the Madagali axis.
"However, rather than blasting and taking out the terrorists in their pick-up vans; he ordered his soldiers to jump out of the APC's and set the armoured tanks on fire, without realising that he was being monitored. This was shocking because the terrorists were armed with weaponry which were grossly inferior to the firepower of the Nigerian Army Amoured tanks. After accomplishing the sabotage act, the Colonel and the junior officers and soldiers ran away into the bush, claiming that they were overpowered by a better armed group of Boko Haram terrorists,''
Military sources said that the action of the Colonel and soldiers under his command had given vent to the disclosure by the top hierarchy of the military that there were so many fifth columnists in the military working against the country's determination to flush out Boko Haram terrorists in the land.
A  senior officer who spoke to  The Vanguard said  "You can now see why the Military Court Martial which is currently sitting is inevitable. The uninformed would feel that soldiers who are fighting the nation's battle are being unjustly punished. But the truth is that many of them are sabotaging Nigeria and making the insurgents look formidable for reasons that cannot be explained. Some of them appear sympathetic to the insurgents.
"How can it be explained that several APCs that cost up to $1million each in some cases or more will be willfully destroyed by Commissioned Officers, COs, who swore to defend the territorial integrity of their nation, just to help terrorists? That is treason of the highest order."
it will be recalled that several military officers have been on trial before the court martial over different allegations of sabotage and mutiny. Public outcry continues to trail the death penalty imposed on some of the soldiers a couple of weeks back.