"Goodluck Jonathan's Administration Is A Disaster In Nigeria's History"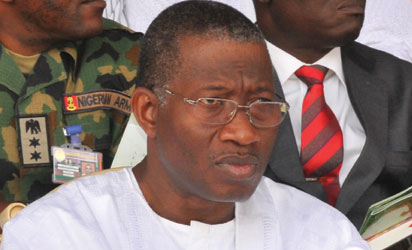 The six years administration of Dr. Goodluck Ebele Jonathan as Nigeria's President has been described as the most disastrous in the country's history.
This verdict was given by All Progressives Congress Chieftain, Chief Eze Chukwuemeka Eze, in a statement issued Wednesday in Port Harcourt, the Rivers State capital.
"We should have been celebrating in recognition of Nigeria's 54 years of nationhood but what we are rather seeing is a pervasive atmosphere of gloom as Nigerians are groaning day and night under the wicked rule they are being subjected to through the government of Dr. Goodluck Ebele Jonathan, which has abdicated its responsibility to the people, and in every way possible shows the wickedness of its reign," Eze said.
According to him, "To say that Nigeria is currently at the cross roads – confused and not knowing what tomorrow portends, occasioned by the visionless and misguided leadership of the Peoples Democratic Party (PDP) at the centre – is to say that appropriate words to describe the state of our nation under an uncaring and corrupt government can't be found. Today, we have a government that cannot protect or guarantee our security as contained in the Constitution.
"To worsen the nation's situation, President Jonathan has proven himself as incapable of running this country as his six years of administration have been most disastrous to the country's history. Our hospitals have become more of consulting and mortuary centres; our federal roads are now death traps, after billions of naira had been budgeted and wasted and looted. We have an elected Government that hates democracy, but prefers 'lootcracy'! Under this administration, the civil war years can be described as haven, as Nigerians are killed in droves today, without any solution at sight! Under this administration, Nigerians are so divided in both tribal and religious matters! Salaries of civil servants are not paid! Graduates are produced in millions yearly without any plan of employment for them. Instead of allowing these unfortunate graduates to live in peace, they are being defrauded by government agencies, while a good number has lost their lives in their search for non-existent jobs! We now have a government of deceit, which major achievement is making our nation a laughing stock before the international community. A government that has succeeded in making us a mockery before the international community and African leaders; which major achievements are traumatising and transforming the nation into darkness as well as digitalising corruption to such a level where a whopping sum of $10 million can be said to have developed wings, and unaccounted for. For leading Nigeria to its present comatose state, one cannot be far from the truth if one says that President Goodluck Jonathan is a colossal failure, in terms of his leadership style."
Chief Eze berated President Jonathan for nursing the ambition to contest for re-election next year, describing it as dishonourable since Jonathan signed an agreement not to seek re-election and publicly reaffirmed that decision in newspaper interviews while begging Nigerians to give him a chance in 2011. "After spending six years in office by 2015, he is still offering himself to contest the 2015 presidential election, which if he wins, will make him to rule the country for ten years; against the Constitution of the Federal Republic of Nigeria that stipulates that nobody should rule the country exceeding eight years," Eze said.
He reminded President Jonathan of his recent statement while reacting to calls from some quarters for him to seek re-election: "In deciding on an appropriate response to such calls, I will place the greater interests of national harmony, cohesion, unity, security, political stability, progress, equity, justice and fairness above any personal ambition or sectional agenda." Jonathan, according to Chief Eze, "must know that his contesting will not be in the greatest interest of national harmony. He must, therefore, perish the thought if he really loves Nigeria and wishes to promote the greatest interest of national harmony."
The former New PDP Spokesman also lambasted "the shameless PDP leadership that nominated President Jonathan, who has demonstrated incompetence as a hobby, to fly the PDP flag during the 2015 general election." He lamented that "not minding the massive failure in all sectors of our economy, the immorality and the political implication on our nation of President Jonathan contesting the 2015 general elections; the various echelons of PDP leadership has adopted him as the party's sole-candidate for the 2015 presidential election."
On the way out, Chief Eze said: "Nigerians have no option than to rally together and ensure that this evil calculation is not allowed to see the light of the day as any extra day after May 29, 2015 with PDP leadership at the centre will be hellish for all of us.
"Are Nigerians actually tired of these evil cabals that have hijacked governance in the country? If yes is the answer; how to correct these anomalies associated with the poor leadership of our country by PDP lay in their hands. The fate of our country can only be ratified and put back on track if Nigerians rise and get PDP sacked by 2015. If not, the woes ahead on all of us may not be described. We have done too much talking!
"The fact remains that should APC lose out in the 2015 general election, but God forbid, the true colour of President Goodluck Jonathan will be revealed to Nigerians. And the heat may be unbearable. The ball is now in the court of all Nigerians to do that which is necessary to rescue our dear from the imminent doom that awaits her, should we fail in this mission."