Nigeria@54: We'll Overcome Our Challenges, I'm Also Committed To Fulfil My Campaign Promises- Jonathan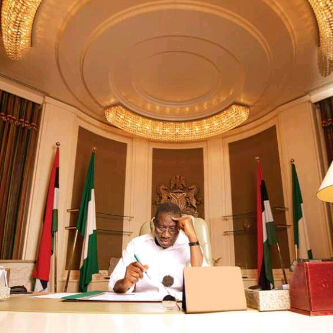 by Oluwatosin Fatoyinbo
President Goodluck Jonathan has said that Nigeria will overcome its many challenges even as it marks her 54th Anniversary today.
The President said this during his Independence Day address to the nation.
He said "We are still in that mood in spite of the many accomplishments of our administration. Our sombreness has to do with the crises of nationhood occasioned by the activities of terrorist elements who have done the unimaginable to challenge our unity as a people"
"On an occasion like this, it is important that we remember all the precious souls that have been lost in the unprecedented war of terror unleashed on some parts of our country by these individuals who want to compel us to live our lives their way. They will not succeed"
The President also promised to carry out the recommendations made by the National Conference. He said to that end, he has set up a Ministerial Committee headed by the Attorney General to look into the work-ability of the Confab recommendations.
"I have made a firm commitment that we would act on the recommendations of the conference. This, I have started by setting up the Ministerial Committee headed by the Honourable Attorney General of the Federation to work out the modalities for implementing the Report. Every promise I make, God willing, I will see to its fulfilment. I assure you, we shall implement the report"
He said his administration was fully committed making good all its promises.
On the economy, the President said that the nation is now recognised Internationally with having the largest economy in Africa
"Today, following the rebasing of our economy, every international monitoring and ratings agency now acknowledges Nigeria as the largest economy in Africa, with a Gross Domestic Product of five hundred and ten billion dollars ($510 billion) which also places us as the 26th largest economy in the world. This is progress.
Earlier in the year, we launched the Nigeria Industrial Revolution Plan (NIRP) and the National Enterprise Development Programme (NEDEP) with the stated objective of fast tracking inclusive growth, job creation, enterprise development and industrialisation"
He further stated that he is proud of the achievement of the country in curbing the spread of the deadly Ebola virus.
"I cannot end this address without commenting on the deadly Ebola Virus Disease (EVD) which was sadly brought into our country recently. My directives to the Federal Ministry of Health saw the ministry leading the charge in curtailing the spread of this deadly scourge and managing its impact. This is how it should be: swift, effective and comprehensive action in defence of citizens.
It must be pointed out that the Ebola battle is still raging elsewhere in our sub-region. I therefore enjoin all our citizens to continue to adhere strictly to all the guidelines that have been given by our health officials to keep Ebola out of our country"